Images: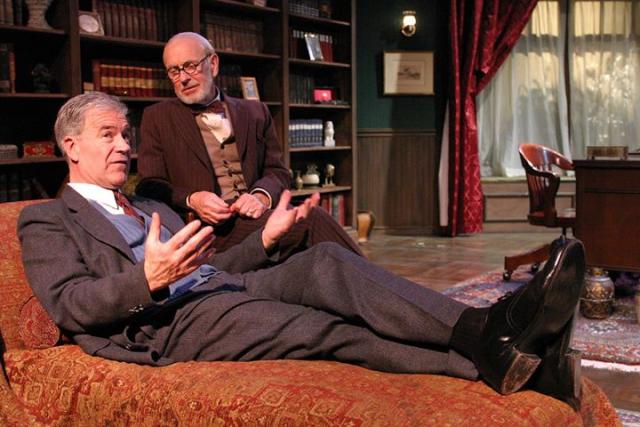 Theater Address:
2055 South Sepulveda Boulevard
Review:
Leading debunker of God meets famed Christian thinker in Freud's Last Session, Mark St. Germain's intellectual drama now on the smallest of the Odyssey's three stages in West Los Angeles. The two-character play, first produced by the Barrington Stage Company, imagines a meeting in 1939 between Sigmund Freud (Martin Rayner) and C.S. Lewis (Martyn Stanbridge). Freud was living in London after having fled the Nazis; Lewis was a Cambridge don (and the author of numerous books on theology and mythology, including "The Chronicles of Narnia.")
Author St. Germain got the idea for Freud's Last Session when he read "The Question of God" by Dr. Armand Nicholi, which contrasted both Freud's and Lewis' beliefs. "At the end of the book, the author said there was a young Oxford man who visited Freud shortly before his death and wouldn't it have been fascinating if it were C.S. Lewis. That was all I needed. I just imagined the idea of these two people who are totally opposite meeting together…I thought there was a possibility of good drama."
St. Germain was certainly correct in that regard. The battle of wits between Freud and Lewis is skillfully dramatized by the playwright, who manages to breathe life into their arguments about religion, love, sex and death. St. Germain was also able to avoid turning his play into a debate by going as deep as he could into character, showing the human, down-to-earth side of these two thinkers.
History and death also figure strongly in the play, which is set in Freud's study on the day England entered WW II (with BBC news bulletins providing the momentous details). As air-raid sirens wail, Freud wonders if he and Lewis should go to a shelter to escape Hitler's bombs.
The thought of war triggers horrific memories for Lewis, who had been wounded in battle in WW I and suffered deep psychological scarring. Freud himself is suffering from a trauma: his years of smoking have led to cancer of the jaw and tongue. The disease not only causes him horrific pain but will kill him within a year of this meeting.
Matching St. Germain's astute and taut script is the acting of Rayner and Stanbridge, who give magical performances as Freud and Lewis. Not only are they convincing in their roles, they work together in smooth, harmonious fashion. Even Olivier and Gielgud couldn't top what they've done.
Beautifully directed by Robert Mandel, handsomely produced by Odyssey Theater Ensemble, Freud's Last Session is one to remember.
Cast:
Martin Rayner, Martyn Stanbridge , Paul Gregory (radio voices)
Technical:
Set: Pete Hickok; Costumes: Kim DeShazo; Lighting: Derrick McDaniel. Sound: Christopher Moscatiello