Images: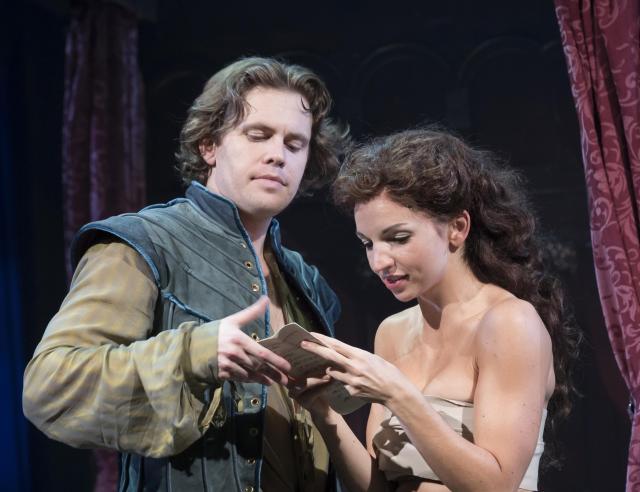 Theater:
Florida State University Center for the Performing Arts - Mertz Theater
Review:
Despite its length and prescription for elaborate production, the stage version of the movie "Shakespeare in Love" is like a student take-off on Shakespeare's plays, especially Romeo and Juliet. Most of it's a stretch for anyone who knows Will's repertoire, Christopher Marlowe's, and theater history. Yet enjoyment's to be had in robust acting, elaborate costumes and apt lighting at Asolo Rep.
By emphasizing the play's comic aspects and almost obliterating the ending's sad ones, director Rachel Rockwell sustains interest throughout a contrived first act to a more satisfying second one. Would you believe Will's promised a play about a pirate's daughter to both Manager Henslowe (Jack Wetherall, rightly anxious) and actor Burbage (David Breitbarth, having to bluster and blow off stream, un-Hamlet-like)?
Matt Mueller's Christopher Marlowe is eminently likeable as the famous (but historically unlikely) author who has to help Will plot and write. He also acts like Cyrano de Bergerac in a balcony scene in which handsome Jordan Brown's smitten Will courts pretty, talented Laura Rook as Viola de Lesseps. She's going to appear disguised as a boy playing Juliet at a time women could not act on the English stage.
Catherine Smitro's imposing Nurse to Viola inspires the like character in relation to Juliet, while Brandon Dahlquist plays nasty as Wessex. Unlike Paris to Juliet, he's after Viola for power and financial gain.
Nate Burger manages well to make Ned Alleyn seem acceptable to play Shakespeare's Mercutio, though in reality his characters and poetry in Marlowe's dramas are worlds apart.
David Lively, Matthew McGee, and Colleen Lafeber heighten the comedy in supporting roles. Matt DeCaro is a strict father to Viola. Peggy Roeder makes a spectacular entrance, then reigns as a dry Queen Elizabeth. She lets Sting the Dog be a scene stealer.
There's a cloud-filled sky usually behind the two-tired set with a winding staircase on a huge turntable that helps in scene changes. A huge rose off to one side of the sky is a bit of a mystery until it's revealed to designate the Rose Theatre in London. No sign of a scenic metaphor or disguise of elements that serve a practical rather than esthetic purpose (i.e., blocks to be used by Will in climbing up to Viola).
The play, though longer, is less realistic than the film on which it is based.
Cast:
Jordan Brown, Laura Rook, Matt Mueller, Jack Wetherall; Catherine Smitko; David Breitbarth; David Lively, Nate Burger; Addison Ruscoe; Andrew Bosworth; Colleen LaFeber; Matt DeCaro, Peggy Roeder; Sting the Dog; Brandon Dahlquist; Addison Ruscoe; Aleksandr Krapivkin; Rex Willis; Anthony J. Hamilton; Nolan Fitzgerald Hennelly; Duston Babin; Wes Tolman; Christopher Carlson; Kedren Spencer; Mary Ellen Everett; Amy Helms; Amber Lageman
Technical:
Music/Musical Director: Neil Bartram; Set: Scott Davis; Costumes: Susan Mickey; Lights: Robert Wierzel; Fights: Matt Hawkins; Hair, Wigs: Michelle Hart