Images: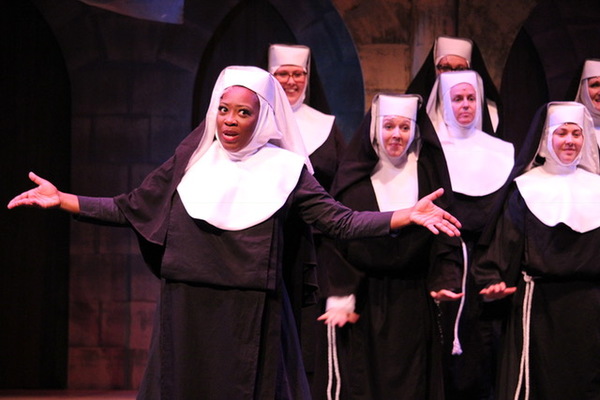 Theater Address:
3333 North MacArthur Boulevard
Review:
Deloris Van Cartier (Cherish Robinson) is an aspiring singer preparing to audition in her gangster boyfriend Curtis's (Jamall Houston) Philadelphia disco when she walks in on him fatally shooting one of his gang members. She makes a hasty exit and reports it to the police. They put her in hiding prior to Curtis's trial in the only place the police think she will never be found, a convent. With the co-operation of the Mother Superior (Susan Metzger) Deloris is introduced to the other nuns as Sister Mary Clarence. She decides to take on the convent's musically challenged choir and whip it into shape. Soon word gets out about the fabulous music emanating from the convent. Meanwhile Curtis and his cronies find out where Deloris is ensconced, and the high jinks escalate.
The stars of this production are the costumes by Michael Robinson and the choreography of Michael Serrecchia. As the production numbers escalate in the Act I finale the nuns' black habits are adorned with wide red front panels from top to bottom. The Act II costumes are cleverly designed sleepwear with the finale boasting glittering habits. Curtis' monochromatic costumes in red, green, and blue are clever eye candy. The stage movements during the production numbers are outstanding.
Cherish Robinson possesses star quality and knows how to belt out a number. She also exhibits superb comic timing. Susan Metzger has great stage presence but as the mother superior is at least a decade too young for the role and does not evoke the authority required of the character. Megan Kelly Bates as Sister Mary Patrick stands out with her comic timing. However, the afternoon I caught this production, it was marred by one leading character tripping all over himself just to get to his desk. Meanwhile, two cast members carried a toteboard showing the convent's collection meter but stood in darkness as the light board operator missed the cue. The orchestra was a cacophony of ear-splitting music, much too loud for the performance space of the Dupree Theater.
Based on the 1992 movie, the play suffers in the translation even though it did run for 16 months on Broadway in 2011-12. Sister Act is best experienced by seeing the movie.
Cast:
Cherish Robinson, Susan Metzger, Claire DeJean, Megan Kelly Bates, Gena Loe, Chuck Moore, Jamall Houston, Branden Bailey, Christopher Dawson, Jeff Burleson, Taylor Owen, Stephanie Felton, Mary Bongfeldt, Chimberly Byrom, Nitzia Martinez, Dana Taylor, Colleen LeBleu, Heidi Hood, Stephanie Butler, Lucia Welch, Lindsey Yarborough, Kasi Hollowell, Melissa Rosenburg, Laura Jones, Jeri Edwards, Gabriel Ethridge, Christian Jones, Dwight Taylor, Bennie Adkins, Jake Shanahan, and Larry Macklin.
Technical:
Set: Clare Floyd DeVries; Lighting: Sam Nance; Costumes: Michael Robinson; Sound: Tyler Payne