Images: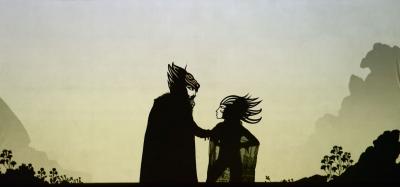 Company/Producers:
Fictionville Studio & Banu Productions
Theater Address:
9390 South Santa Monica Boulevard
Review:
A worldwide hit, Feather of Fire, has made its first appearance at The Wallis in a 70-minute show that dazzles from beginning to end.
Conceived, designed and directed by the Iranian-born Hamid Rahmanian (a 2014 Guggenheim Fellow), Feathers of Fire uses shadow play, computer technology, and film techniques to animate sections of a thousand-year-old Persian text, "Shahnameh, The Epic of the Persian Kings."
According to program notes, a poet named Ferdowski of Tous spent thirty years collecting Iranian poetry and mythology, which he then used as the inspiration for the sixty thousand verses that became "Shahnameh." An heroic tale in the tradition of Homer's "Odyssey," Virgil's "Aeneid" and Dante's "Divine Comedy," the "Shanameh" is not well known in the West but has been widely read (and adapted) in the Near East, Central Asia and India.
Rahmanian and co-writer Vikas Menon focus on one of the love stories in "Shanameh," the one involving Zaul and Rudabeh. These star-crossed lovers, the Persian counterparts of Romeo and Juliet, must battle tradition, society and evil enemies to eventually marry and find happiness. "I've also used elements from "The Jungle Book" and "Rapunzel" to tell their story," Rahmanian has said.
Zaul, cast out from his royal home because he was born with white hair—and raised in the wild by a mythical bird—meets the beauteous and compassionate Rudabeh. Their passionate love for each other enables them to triumph over inconceivable odds—including a ferocious battle with a monster—and eventually give birth to a son, Rostam, who becomes the great mythological hero of "Shanameh."
Feathers of Fire uses the techniques of San Francisco shadow master Larry Reed, inventor of a dramatic protruding mask, to create a cinematic spectacle. Utilizing eight actors, 160 puppets, 15 masks and costumes, the designers also project nearly 200 animated backgrounds onto a back-lit 15-by-30-foot screen.
The swiftly-moving story has a soundtrack: the characters are voiced (on tape) by actors; there is also an original score by Iranian composers Loga Ramin Torkian and Azam Ali of the band Niyaz.
"When I immigrated to the U.S., I realized that many people knew nothing about Iran's rich history in the arts and literature," said Rahmanian. "I want to be a cultural activist, a cultural ambassador by showing the contribution that Persian culture has brought to civilization. I hope that Feathers of Fire presents a more holistic view of Iran. Moving past politics and religion, it shows Iran and its culture in the universal context of a shared and common world mythology."
Rahmanian undertook the immense task of illustrating and commissioning a new translation of "Shanameh," which he entitled "Shanameh: The Epic of the Persian Kings." There is also an audio-book version.
Rahmanian's vast efforts on behalf of "Shanameh" have resulted in a spectacular show that can be enjoyed by both children and adults.
Cast:
Aureen Almario, Ya Wen Chien, Gabriela Garcia, Ariel Lauryn, Rose Nisker, Jon Riddleberger, Fred C. Riley III, Lorna Velasco, Dina Zarif
Technical:
Music: Loga Ramin and Azam Ali; Storyboards & Development: Syd Fini; Puppets: Neda Kazemifar and Spica Wobbe