Images: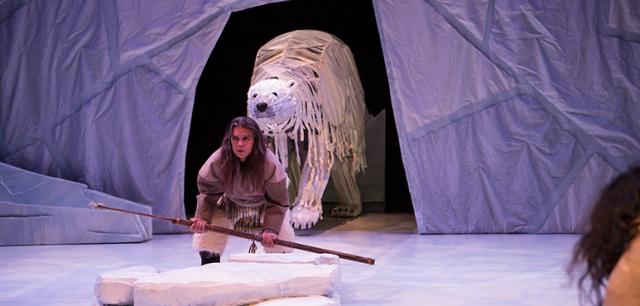 Company/Producers:
Stratford Festival of Canada
Theater:
Stratford Festival - Studio Theater
Review:
I doubt that this ultimately moving and enlightening new play will continue to be shaped, trimmed, and revised after the long, elaborate development it has received before Stratford's brilliant world premiere. But that's a sad conclusion, because it's still too long and diffuse and uneven, yet promises to be an important original Canadian contribution to world drama. Hardly anyone leaves a performance of Stratford's The Breathing Hole unaffected.
Nothing ambitious here! The play moves from primitive hunters in the barren extreme northern landscape in spring of the early 16th century through its development by early Inuit tribes who learn to remain there yearlong, to the European explorers and English occupation in 1845, and ultimately to the climate failure and barren future as visited by over-privileged passengers on a luxury tour ship in 2033, viewing its decay. Along the way, the hope for building a productive civilization in which different societies cooperate and learn to develop and share the limited food resources with the resident animals gives way to the conflicts of sharing dwindling resources, and ultimately the domination of destructive, spoiled predators.
The cast and artistic staff include a number of Inuit artists, including the director. And Stratford stalwarts like Randy Hughson [Capulet in Romeo and Juliet, and Sir John Franklin, the leader of the European expedition here] and Juan Chioran [the Prince in Romeo and Juliet, Long John Silver in Treasure Island this season] play Canadians, Brits and Americans.
There are comic moments, like the Inuits and invading soldiers breaking the ice [pun intended] by trying to top each other in jokey claims to have the larger penises. One early charming scene has the Inuit matriarch Huumittug [a wonderful Jani Lauzon] cuddling a baby polar bear and protecting it from those who killed his family.
That small, realistic puppet becomes the star of this play! In a huge polar bear costume (beautifully designed by Daniella Masellis) Bruce Hunter plays the mythical polar bear Angu'juaq, who represents the animal world throughout the more than six centuries of this story. Along the way, he mates with a similarly wonderfully designed and played female polar bear, Panik [also played by Jani Lauzon], kills seals to feed Huumittug and her descendants, and eventually is hunted by the humans he tried to help.
The final act is not only depressing and ugly but over-the-top cynical. One viewer twitted that it made her hate the human race. But though it clearly needs more subtlety, the play has a valid indictment at its core.
Climactically, Angu'juaq is seen, old and damaged, in the water, trying to climb up onto the ship, and, with excessive irony, is mortally wounded by a statue of himself thrown down onto his head. All I can tell you is that we see this ridiculously symbolic action cause a giant puppet representing a fictitious polar bear over half a millennium old to struggle, then resignedly die and drown. And – snicker and doubt if you will – the result devastated the audience and, after my seventy years of theatergoing around the globe, continues to haunt me as few theatrical moments have managed to. .
Cast:
Thomas Mitchell Barnet, Jimmy Blais, Yolanda Bonnell, Miali Buscemi, Juan Chioran, Jim Codrington, Sarah Dodd, Victor Ertmanis, Ujameq Fleischer, Angelina FosterdelMundo, Deidre Gillard-Rowlings, Randy Hughson, Bruce Hunter, Johnny Issaluk, Clara Kittmer, Jani Lauzon, Jamie Mac, Katelyn McCulloch, Zlatomir Moldovanski, Nick Nahwegahbow, Hunter Smalley, Gordon Patrick White
Technical:
Set: Daniela Masellis; Costumes: Joanna Yu; Lighting: Itai Erdal; Music/: Carmen Braden; Fight Director: John Stead; Movement: Brad Cook; Dramaturg: Bob White