Images: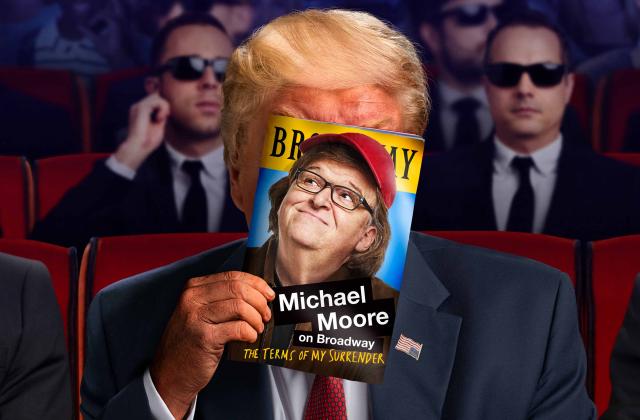 Website:
michaelmooreonbroadway.com
Review:
Except for one small thing, sitting in the Belasco Theater watching Michael Moore's lively, informative call-and-response discourse, is probably somewhat like a Trump campaign rally. That one small thing here, of course, is that there is no Donald Trump but there is a lively vibe to this audience which is definitely the "choir" to whom Moore is preaching.
Most of the audience would have never been seen at a Trump rally but were here ready to cheer the liberal documentarian and activist's entertaining solo show, The Terms of My Surrender. How many will heed his call to action, we don't know.
While the show tends to run over its stated two hours, no intermission, Moore holds the stage with plenty of humor, poking fun at himself as well as bashing the Republican party, the Alt Right and of course, POTUS. The overriding intention is to inspire theatergoers to pick themselves up and do something, "even one little thing," to make a difference. "We are the popular vote," he emphasizes, "no matter what Trump says," and we have the power to change things.
An engaging storyteller, Moore delivers amusing anecdotes and also some somber and moving memories. Tautly directed by Michael Mayer (Spring Awakening), Moore's biographical look-backs include his teenage grab for power. Learning about the racism in the local Elks Club, Moore entered a nondiscrimination speech in the Elk's speech contest and he won. Shortly after, he tried to unseat the abusive Vice-Principal of his Flint, Michigan high school, by running for the local Board of Education. He won a seat. However, when he was invited to appear on TV with Walter Cronkite, he refused, claiming there was not enough Clearasil for this teenager to appear on television.
Moore's activism continued in full gear. Years later, when President Ronald Reagan was scheduled to lay a wreath for fallen Nazis at Germany's Bitburg cemetery, Moore joined a friend, whose parents had died in Bergen-Belsen, in an intricate scheme to personally protest the President at the cemetery.
One of the most amusing segments is Moore's satirical display of the TSA list of items banned from airplanes, some obvious like dynamite, meat cleavers, and cattle prods, but also items you might not ever consider including, like microwave ovens. Laughable is a mock game show, "Stump the Canadian," pitting the "most intelligent American college graduate in the theater" against a Canadian volunteer, a graduate with a lower grade average, to prove who was smarter. Guess who won.
Not funny at all are the threats of harm hurled against Moore, one appalling diatribe by Glenn Beck, FOX commentator. (Moore now travels with a bodyguard). Also horrifying is his account of the story behind the ongoing water contamination in Moore's hometown, Flint, Michigan.
Set designer David Rockwell sets Moore in front of a stage-wide American flag, theatrically lit by Kevin Adams, with stars and stripes changing colors to highlight Moore's various segments. At times, pale visages of the President are superimposed on the flag. Small lighted sets featuring a desk or a comfy leather chair slide out for different segments. Occasional guests are featured, on this evening, long-time Saturday Night Live's Darrell Hammond offered snippets of Presidential impersonations.
Besides the flag, video designer Andrew Lazarow provided illuminating projections of Michael Moore at age 18, sitting at a school board meeting with the older, dour, and suspicious fellow board members. Another projection shows the two young men in Bitburg, Germany holding up the banner castigating President Reagan's wreath-laying tribute.
The show's tagline asks, "Can a Broadway show take down a sitting President?" That's doubtful. However, Michael Moore is dedicated and intelligent with a sweet likability. Whether or not you are in his camp, The Terms of My Surrender offers a provocative commentary by one man who predicted early on the winner of the 2016 Presidential election while many voters did not recognize the country's depth of frustration and discrimination.
Technical:
Set: David Rockwell; Projections: Andrew Lazarow; Costumes: Jeff Mahshie; Lighting: Kevin Adams; Sound: Brian Ronan; Movement Director: Noah Racey