Images: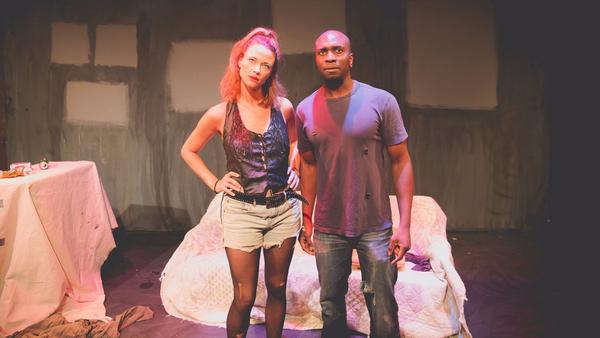 Company/Producers:
Samadahi Entertainment, The Actorhood, & The Lounge Theater
Theater Address:
6201 Santa Monica Boulevard
Review:
Sexual obsession holds in its ferocious grip the three characters in The Dreamer Examines his Pillow, an early work by John Patrick Shanley which has been revived at the Lounge Theatre in Hollywood. Director Mark Blanchard has worked wonders with a trio of top-notch actors in bringing this strange, surreal play to life.
Shanley's way with language (in works like Italian American Reconciliation and Danny and the Deep Blue Sea) has always been on the verbose, over-the-top side, and it's no different in Dreamer. All three of the New Yorkers in the play speak a kind of urban patois, a pungent mixture of profanity, beery poetry, and romantic yearning. That poses quite a challenge to the actors, who must somehow make the purple prose work to their advantage, even as they try to establish character. But that's just what Ade M'Cormack, Scottie Thompson, and Sal Landi are able to do. Their work, ultimately, is better than the play itself.
The Dreamer Examines his Pillow is broken down into three related scenes, beginning with a confrontation between Tommy (M'Cormack) and his girlfriend Donna (Thompson). She is in a rage, having just discovered that the down-and-out Tommy (who's living in a dump) has been "porking" her 16-year-old sister. She'd like to kill him but can't because she still finds him sexually irrestible.
In scene two, Donna goes to see her drunken father (Landi), a once-famous artist who quit painting when his wife died. Although he treated her badly, his sex life with her was so intense that (as he explains) he had to sleep with other women to let some steam off. Donna browbeats him into a confrontation with Tommy. "Either convince him to marry me or beat the shit out of him."
In scene three, the confrontation takes place, with surprising, comic and, yes, even touching results. One of the key lines in the play helps, perhaps, to explain its deeper meaning: "It's like getting to die, an' get past death to get to the universe, an' then come back."
Cast:
Ade M'Cormack, Scottie Thompson, Sal Landi
Technical:
Lighting: Donny Jackson; Set: Aaron Lyons; Sound: Nick Machado