Images: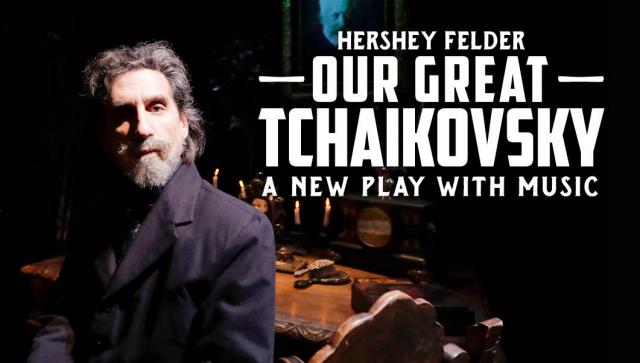 Company/Producers:
Wallis Annenberg Center for the Performing Arts
Theater Address:
9390 North Santa Monica Boulevard
Review:
Hershey Felder, maven of solo shows about famous musical personages, has returned to the Wallis with his latest opus, Our Great Tchaikovsky. Having done Gershwin, Chopin, Bernstein, and Liszt in recent years, the actor/pianist/designer/producer Felder has now trained his sights on the life of the Russian composer, Piotr Ilyich Tchaikovsky. And what a life it was: packed with struggle, pain, triumph, joy, and suffering. Great as his professional successes were, Tchaikovsky was, on the whole, a tragically unhappy man, owing to the price he paid for being a closeted homosexual. Unable to be open about his true nature, the composer was wracked with guilt and pain, but, as Felder said, he put his tears into his music.
Tchaikovsky's problems started when he was young: at the age of six he was already playing and composing music—and showing signs of genius—but his bourgeois parents sent him away to an all-male boarding school to be trained to become a civil servant. Tchaikovsky was physically abused in this snakepit and forbidden to practice his music. The same thing happened when he moved up the educational ladder to an even more exclusive school for budding civil servants, one which came down hard on any young man who showed signs of being a sissy. This was a reflection of the larger Russian punitive policy towards homosexuality. Anyone convicted of that "crime" faced being sent to a Siberian prison — or even being put to death.
Felder interrupts his portrayal of Tchaikovsky's life to make the important point that nothing has changed in the way Russia treats its gay citizens. They are still regarded as criminals and are often thrown into in prison, where they are beaten and even murdered by the state.
Felder pulls no punches when he talks about Tchaikovsky; it's a grim tale he tells, though it is balanced and brightened by the generous passages of music he plays, all of it by Tchaikovsky and consequently stirring, colorful, and deeply moving. Felder commands the stage with an assurance and skill that are quite remarkable. He has now become a master showman, and that's what makes Our Great Tchaikovsky well worth seeing.
Technical:
Lighting/Projections: Christopher Ash; Set: Hershey Felder; Costumes: Abigail Caywood; Sound/Production Mgr: Erik Carstensen; Dramaturg: Meghan Maiya