Images: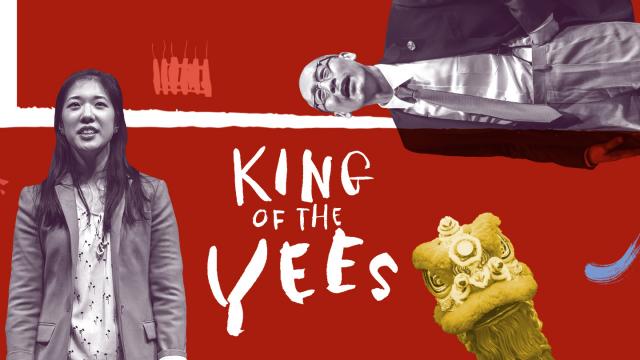 Company/Producers:
Center Theatre Group & Goodman Theater
Theater Address:
9820 Washington Boulevard
Review:
It's rude, irreverent and funny from beginning to end.
The play is King of the Yees, and it's the work of a Chinese-American playwright, Lauren Yee, who isn't afraid to poke fun at her people even as she pays tribute to them. Yee, who grew up in San Francisco's Chinatown, makes that community the focus of her play, which is now in a world-premiere production at the Kirk Douglas (after having been work-shopped in Chicago). She breaks the fourth wall by having the actress who plays her (Stephanie Soohyun Park) address the audience directly, only to break off and jump headlong into the waters of the swiftly-moving story. And what a story it is, told with a fresh, bold voice and performed in a madcap style that will remind some of the Marx Brothers.
As the narrator explains, she is trying to write a play about her father, Larry (Francis Jue), who is chairman of the Yee Fung Toy, a social club for the male members of the extended Yee family. The club, symbolized by two towering, Chinese-styled red doors, has been around for 150 years but is now in danger of becoming extinct. Its members are dying off, and their more-assimilated children have turned their backs on their own culture. Lauren, for example, not only speaks no Cantonese but attends an Ivy League school and intends to live in Berlin when she graduates.
Lauren can't understand why her father is so devoted to the Yee cause, even to the point of campaigning for a corrupt politician simply because he bears that name. But when Larry goes missing, Lauren is obliged to connect with the Chinese-American culture to try and find him.
Daniel Smith, Rammel Chan and Angela Lin play some of the many characters Lauren confronts during her literal and spiritual journey into the heart of Chinatown. That includes Shrimp Boy, the gangster head of the community (cue bad-guy movie music), and the ghosts of the elders (three rock-and-rolling transvestites). It goes on like that for two hours, with the playwright satirizing just about every aspect of Chinese-American history, even as she discovers what is worthy and admirable about her own unique past.
Because the cast and director have been working together on this play since its Chicago days, the production at the Kirk Douglas has been honed to the point of perfection.
Cast:
Rammel Chan, Francis Jue, Angela Lin, Stephenie Soohyun Park, Daniel Smith
Technical:
Set: William Boles; Costumes: Izumi Inaba; Lighting: Heather Gilbert; Sound: Mikhail Fiksel; Projections: Mike Tutaj; Dramaturgy: Tanya Palmer