Images: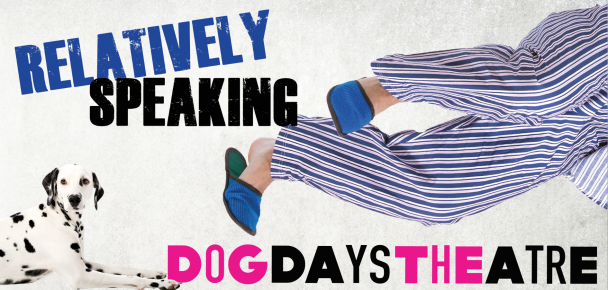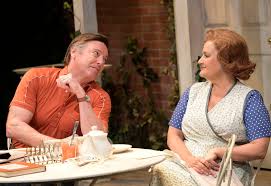 Company/Producers:
Florida State University - Asolo Conservatory
Theater:
Florida State University Center for the Performing Arts - Cook Theater
Review:
There couldn't be a better vehicle to launch a new summer "Dog Days of Summer" program of FSU/Asolo's Conservatory than master farceur Alan Ayckbourn's first big hit, Relatively Speaking. It takes us back to England in the 1960s as sexual liberation meets sexual hanky panky affecting a traditional troubled marriage. And maybe a future non-traditionally born one.
Relatively Speaking has all the confusion and mistaken identities of a Restoration comedy and the same kind of marital run-arounds that keep us laughing as we watch a clash of morality and its opposite. First there's the one-month romance of Greg and Ginny in her romantic London pad where she puts a spin on certain big slippers he finds under her bed. Then there are the flowers that come to her and candy she has to explain away.
Wyatt C. McNeil's sincere Greg, naive all the way down to his bare buttocks, wants to marry pretty Kelly Elizabeth Smith's Ginny. More sophisticated, she resolves to cleverly see her married boss lover to quit their affair and get back incriminating letters. But Greg beats her to his country home (that she lied about) to ask Philip, whom he thinks is her father, for his okay to their marriage.
Meanwhile we see duplicitous Philip (always professional while pompous David Kortemeier) at breakfast with dutiful but disenchanted wife Sheila (marvelously mannered and matronly Julia Gibson). Philip's absent, working in his garden when Greg arrives and engages Sheila in polite talk and even in-house kitchen activity, thinking she's Ginny's mum.
Before Ginny arrives, in hilarious confusion Philip thinks Greg wants to marry his wife. We have yet to laugh long and heartily at the principles all having a marriage-go-round. There's even a twist at the end when Philip tries for one last fling and then how Sheila catches on and tries some flinging of her own. We might well guess what will happen in both couples' future.
Director Brendan Fox has slyly put together a well made production to match Ayckbourn's script. Each actor and technical expert beautifully displays a 1960s that may predict a world we've seen a bit before and a lot since. We're lucky to have this funny reminder — and maybe serious caution about deception--in FSU/Asolo Conservatory's new Sarasota summer theater program.
Cast:
Wyatt C. McNeil, Kelly Elizabeth Smith, David Kortemeier, Julia Gibson
Technical:
Set: Les Liang; Costumes: David Kovach; Lighting: Nick Jones; Sound: Rew Tippin; Props: Annette Breazeale; Wigs: Michelle Hart; Voice & Dialogue Coach: Ptricia Delorey; Production Stage Mgr.: Kelly A. Borgia;