Images: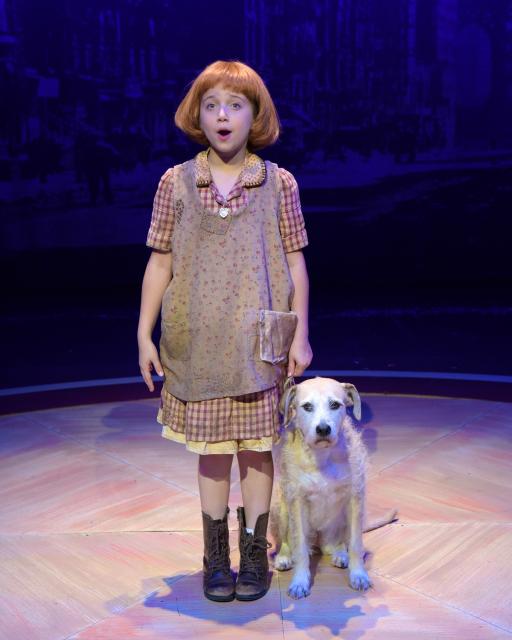 Company/Producers:
Bill Stutler & Bob Funking for Westchester Broadway Theater
Theater Type:
Regional, Equity Dinner Theater
Theater:
Westchester Broadway Theater
Review:
We all remember the tunes from Annie: "Tomorrow," "Maybe," "It's the Hard-Knock Life." What we tend to forget is the political message and the real underlying poignancy.
The year is 1933, and many people are desperate. They've lost their homes, and a lot of them are forced to live in makeshift shacks in "Hoovervilles." Daddy Warbucks (Michael DeVries) is so named because, we assume, he was a war profiteer. His confession that he was bound to do anything at all to be rich and successful brings chills. Yes, we know such people. Susann Fletcher lets us see the futility that Miss Hannigan feels in her personal situation. She must waste her existence caring for orphans at the N.Y.C. Municipal Orphanage Girl's Annex; she'd rather be leading a life filled with love from an adoring man. We don't condone her seemingly heartless behavior, but we do understand it. The orphanage itself is bleak, with two children per iron bed, cold gruel, and a massive amount of cleaning and scrubbing.
As the show opens, Annie (Peyton Ella) is comforting the littlest orphan, Molly, who desperately misses her parents. Annie has a half locket and a note; she feels sure that her mom and dad will come back for her, as promised. How can the audience not wonder how bad things have to get for a child to be abandoned due to lack of funds? No wonder Annie, with the help of the other orphans, plans her escape. She has nothing to lose.
The entire cast is a delightful, with special kudos to Peyton Ella, a pint-sized Ethel Merman with a lollapalooza of a belt. But never has a production of this now classic musical seen a more woebegone, scruffy, undernourished looking mongrel than this Sandy. Anyone whose heart doesn't immediately melt for this pooch simply doesn't have an ounce of sentiment. It's especially lovely to see that this Annie and Sandy have real chemistry. (The last time I saw the revival of Annie in New York, the young actress had her perfectly groomed and obviously well-fed dog held so tightly at the neck, I thought the poor canine would choke to death. No such worries here.)
As enjoyable as the show is, it also says a great deal about the state of mind of a country in economic turmoil ("no optimism since 1928"), the disparity of the ultra-rich and the struggling poor, and the belief that love does win out in the end. Or, you could just sit back and enjoy the wonderful songs, the adorable kids, and especially, that totally perfect dog.
Cast:
Peyton Fishman/Kaylin Hedges (Annie, alternating performances); Michael DeVries (Daddy Warbucks); Susann Fletcher (Miss Hannigan); Celeste Hudson (Grace); Adam Roberts (Rooster); Aubrey Sinn (Lily); John-Charles Kelly (President Franklin D. Roosevelt); Haylie Shea Christiano/Molly Lyons (Molly, alternating performances); Sunny (Sandy)
Technical:
Set: Michael Bottari & Ron Case; Lighting: Andrew Gmoser; Costumes: Suzy Benzinger; Sound: Mark Zuckerman