Images: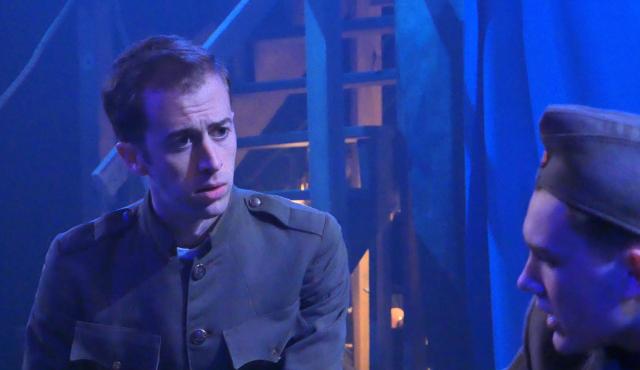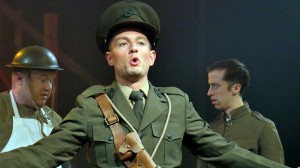 Review:
Some experiences cannot be described in words, war being one of them. The difficulty of summarizing so vast and varied a topic accounts for the similarities evident in their documentation, popular motifs generally focusing on assertions that armed conflict is cruel, that warriors suffer and die at the behest of reckless leaders, and that those who survive are shunned by their fellow citizens as reminders of how quickly populaces can be gulled by flag-waving oratory.
On the centennial of our nation's entry into World War One, Chicago Folks Operetta felt the time was right to revive this rarely performed 1936 play-with-music—the collaborative effort of Weimer Republic composer-turned-expat refugee Kurt Weill, who arrived in the United States versed in Brechtian Songspiele to find himself confronted with a Broadway aesthetic based in frothy spectacle hearkening to the Viennese confections of Sigmund Romberg, and playwright Paul Green, whose tales of racial injustice in the antebellum south drew him to the ensemble-based Group Theater. Sharing a conviction of music as a tool for social commentary, these two creative minds forged a pacifist parable constructed on both classical and modernist lines.
Such contrasting elements can make for jarring contradictions in 2017, however. Under the direction of George Cederquist, bel canto vocal delivery and instrumental arrangements for an eleven-piece orchestra (whose volume frequently overwhelms singers in the upstage regions of Stage 773's cavernous Thrust space) are juxtaposed with expressionistic visual images—a psychiatrist wearing a swami's turban, a nun swathed in vodou-priestess finery and a roomful of generals transformed into carnival clowns by a laughing-gas attack.
The score likewise reflects hybrid sensibilities, weaving hints of bugle calls and patriotic hymns into melodies encompassing sentimental ballads, martial anthems and patter songs in praise of tea and psychiatry.
The assembled cast for this museum-piece embraces its generic characters and timeworn text—the latter newly adapted by Gerald Frantzen—with gleeful gusto. At the vanguard is Gabriel di Gennaro's performance in the title role of the Yankee stonecutter who enlists in the war-to-end-all-wars (but, in fact, only changed how wars were waged) and whose common-sense approach to his task leaves him a broken man, fit only for selling trinkets to children—no toy soldiers, though.
Miscellaneous:
This review first appeared in Windy City Times, 7/17