Images: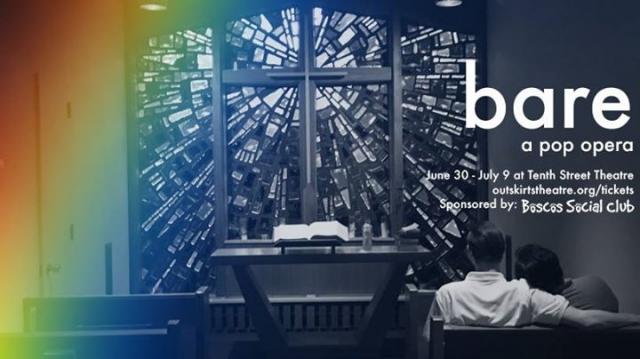 Company/Producers:
Outskirts Theater Company
Director:
Ryan Albrechtson & Allyson Imig
Review:
The relatively young Outskirts Theater takes on its biggest challenge with a production of Bare: A Pop Opera. As artistic director Ryan Albrechtson explains to the audience prior to the performance, this is the company's largest and most complex production in its four-year history. If nothing else, Outskirts deserves credit for tackling material that is far beyond what many community theaters would attempt. It truly lives up to its name, which implies something more daring than what's offered at mainstream theaters.
This isn't the first time Bare: A Pop Opera has been produced in Milwaukee, but it's the first production in many, many years. The show itself dates to 2000, when it opened in Los Angeles. The following year brought an Off-Broadway production. In the years since its inception, Bare has been produced in dozens of US cities and countries around the world. Just last year, it made a return appearance in Sydney, Australia. Clearly, there is still some message within Bare that keeps it in demand year after year.
In the Outskirts production, which is being staged at Milwaukee's Tenth Street Theater, a cast of 14 take audiences through some harrowing days within the walls of a Catholic boarding school. Mostly, the pop opera focuses on a gay couple who fear rejection if they reveal their feelings for each other.
Peter, a chubby, short altar boy, is struggling with the issue of whether to tell his parents about his sexual orientation. His love interest is Jason, the school's golden boy, who seems to have every opportunity handed to him. Jason is trim, tall, buff and well-groomed – everything Peter is not. Although they make an odd-looking couple, Jason is the one who initially comes on to Peter.
Still, it is Jason who freaks when Peter wants to reveal their "secret" (perhaps because he has more to lose?). As a result, Jason latches onto Ivy (Ava Bush), a pretty girl who has loved him from afar. He hopes his feelings for Peter will fade over time. When they don't, he is at first confused and then afraid that Peter will leave him.
As Peter, Ryan Albrectson (who also co-directs) proves to be more of a singer than an actor. He has many solos, the best of which may be "See Me," in which he phones his mother from the boarding school and tries to find the courage to tell her the truth. However, his mother already has guessed what Peter wants to say. After hanging up on Peter, Claire (in an outstanding performance by Gwen Ter Haar) delivers a touching song, "Warning," in which she wonders how this news will affect the family.
Meanwhile, Jason (Clayton Irwin) lands the plum role of Romeo in the school play. Ironically, Ivy is cast as Juliet. They have a late-night tryst and then become very uncomfortable seeing each other at play rehearsals.
As Jason, Irwin makes the audience feel his pain and uncertainty. In contrast, Bush seems rather timid and unsure of herself, despite her character's popularity in school. Still, she packs a wallop in two of her solos, "Portrait of a Girl" and "All Grown Up."
The Outskirts cast ranges from semi-professional actors to college and high school students. The latter give Bare an undeniable touch of realism. One can easily imagine these actors trying to get through their senior year of high school, with college looming ahead and many temptations they are ready to try.
A smartly written subplot involves Jason's sister, Nadia (Francesca Steitz). She speaks for all the overweight girls who are teased and bullied. Steitz earns our empathy for her candor, her loneliness and her satirical responses.
Also drawing out attention is actor Guillermo Contreas. As Lucas, Contreas displays a deft ability to inject humor into his role. He does an excellent job of depicting Lucas as a brainy, somewhat rebellious student who becomes a Pied Piper to lead his classmates astray.
During a turning point in the play, a drunk Peter whispers his true feelings for Jason to Matt, a schoolmate who has been in competition with Jason for many years. Tim Albrechtson, as Matt, sees an opportunity for getting back at his rival. Following a tense dueling scene between Matt and Jason, Matt eventually shoves Jason, calling him "faggot." Albrechson's performance makes one wish that his character was more fully developed.
While most of the cast holds its own, some overacting proves to be a distraction. For instance, Alexa Andrews is way too over-the-top when her character, Diane, becomes a giggly mess when asked to step in for her friend Ivy during a rehearsal for Romeo and Juliet. Likewise, Margaret Teshner demonstrates an inability to finesse all the wacky characters she must play, which range from a teacher/nun to a nightmarish figure in one of Peter's dreams. Sadly, her character must sing the show's worst song, "God Don't Make No Trash." The song reminds one of a more recent and much snappier tune, Lady Gaga's "Born This Way." Both tunes say basically the same thing.
Milwaukee's intimate Tenth Street Theater is an excellent choice for this type of show. However, a bad sound mixing job on opening night allowed the music (a piano, played by music director Jack Rutter) to drown out the actors. Only a couple of the actors had voices strong enough to overcome this situation. As a result, lyrics were sometimes unintelligible unless the entire cast was singing in unison. One assumes that such things will be sorted out during successive performances.
It is sad to think, 17 years after this pop opera first debuted, that gay teens are still tormented and bullied at school, at home and in some parts of society. At least now there are more substantial efforts directed at reaching out to gay youth, such as the "It Gets Better Project." And far more public attention is drawn to young people who are still questioning – or accepting – their sexual identities.
However, recent statistics indicate that gay teen suicide remains an alarming issue (a recent study notes that one out of every three teen suicides involves someone who is gay). For younger audience members, Bare: A Pop Opera may be the first time they get the message that suicide is not the answer to solve the dilemmas they face.
Parental:
mild violence, adult & sexual themes, profanity
Cast:
Ryan Albrechtson (Peter); Clayton Irwin (Jason); Ava Bush (Ivy); Francesca Steitz (Nadia); Tim Albrechtson (Matt); Guillermo Contreas (Lucas).