Images: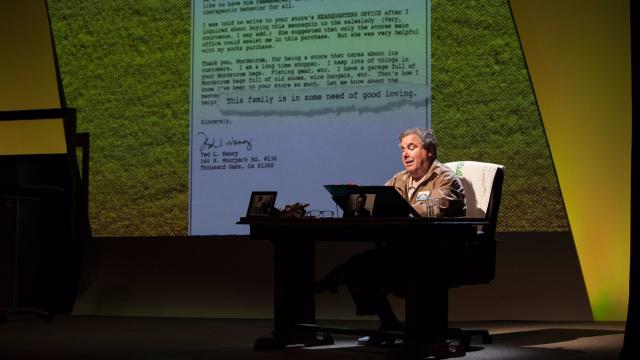 Company/Producers:
Jerry Seinfeld/Geffen Playhouse
Theater:
Geffen Playhouse - Audrey Skirball Kenis Theater
Review:
The history of Letters from a Nut goes back to 1995, when comedian Jerry Seinfeld was watching the Jerry Lewis Labor Day Telethon in a friend's house and discovered a handful of letters sitting on a coffee table. The letters were written by his host, fellow comedian Barry Marder, to various companies, countries and celebrities. Using the pseudonym of Ted L. Nancy, Marder played practical jokes with these letters, making outrageous requests of the recipients, punking them with a straight face.
Seinfeld read some of the letters out loud and when the people at the Telethon party howled with laughter, a cottage industry was born. Nancy published his crank letters in a series of books, many of which became best-sellers (thanks to the Seinfeld seal of approval).
Now Seinfeld has produced a stage play based on those books. Starring Nancy (nee Marder) himself, the play has just opened at the Geffen Playhouse for a month-long run.
It would be nice to report that the laughs have carried over into a new medium, but, alas, the opposite is true. Letters from a Nut is hard going from beginning to end. The production's problems are many. Roly-poly Nancy is not exactly a charismatic performer. Seated at a desk, he reads from his script in a low, monotonous voice, pausing only occasionally to direct an ad lib or two at the audience. He is not helped by the other two actors in the show: Beth Kennedy and Sam Kwasman. Kennedy has the tough job of impersonating Nancy's many different pen-pals around the world: service representatives, embassy employees, an official with the Baseball Hall of Fame (who is responding to Nancy's offer to donate Mickey Mantle's toenail clippings to the museum). Kennedy does this by donning different costumes and wigs—and by taking on various voices and accents. Meryl Streep she is not.
As for Kwasman, he has the thankless task of cavorting around mutely in a clown's costume. What he's doing there is a mystery; perhaps he just escaped from Cirque du Soleil.
I did get a few chuckles out of Letters from a Nut, especially when Nancy invites the president of Czechoslovakia, Vaclav Havel, to become treasurer of his Vacuum Cleaner Club (Havel politely sent back an autographed picture), but for the most part, I found the play to be a one-joke enterprise, carelessly performed and directed as well.
Cast:
Ted L. Nancy (Barry Marder), Beth Kennedy, Sam Kwasman
Technical:
Set/Light: Daniel Ionazzi; Dramaturg: Phyllis Murphy; Production Stage Manager: Julie Ann Renfro