Images: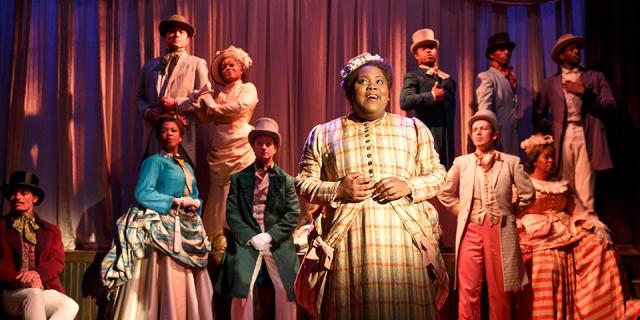 Theater:
Playwrights Horizons - Mainstage Theater
Review:
For all avid theater lovers who lament that there's nothing original in theater nowadays, rejoice! Bella has come to town with a terrifically talented cast, memorable music, and a wholly unique premise. We expect no less from the consistently visionary Playwrights Horizons. Equally exciting, Ashley D. Kelley in the title role, is poised for stardom in the musical pantheon of performers who grab our attention from the beginning, and delight us for years to come. As she says in her program bio, "God is good all the time!"
The story revolves around a young African-American woman, whose defining physical attribute is an enormous backside. Apparently, this makes her irresistible to men (good to know). She's on the lam from her home in Tupelo to escape her notorious past concerning a local lothario named Bonny Jonny (Kevin Maasey). She takes a train headed west in the late 1870's, aiming to be reunited with her "Buffalo Soldier" sweetheart (Britton Smith). The stage proscenium helps set the scene; it's festooned with images of cowboys, Indians, and, in the center, a buffalo head. Director Robert O'Hara does a masterful job of using every inch of the stage to adapt to different scenes. A chorus sings from each side; the train itself is clearly planted in the middle section; and upstage, a real stage pops out with outrageous performers. The most memorable is a "Chinese cowboy" who strips down to a golden, bespangled jock, and clearly lights up Bella's imagination.
The train porter is one Nathaniel Beckworth (Brandon Gill) who clearly takes a shine to Bella. Who can blame him? She's sassy, sweet, and has a giggle that just makes you smile. Plus, of course, her outstanding physical attribute. Bella also has a very healthy fantasy life, often populated by larger than life characters like Diego Moreno (Yurel Echezarreta), the consummate Latin lover. Life is an adventure for Bella, and there's much more excitement to come. Yet she always remembers the nurturing and wise advice she got from her loved ones at home, especially Aunt Dinah (Marinda Anderson), to stay true to herself.
Bella is a delightful fantasy that also carries a powerful history lesson. Who knew it's been estimated that a quarter of the cowboys after the Civil War were black? Why is their story not told, and how many other Hidden Figures are yet to be brought to our attention? Bella works to both entertain and educate us, and I'd love to see it get a wider audience. Broadway, anyone?
Cast:
Marinda Anderson, Yurel Echezarreta, Brandon Gill, Olli Haaskivi, Ashley D. Kelley, Kevin Massey, Jo'Nathan Michael, Kenita R. Miller, Paolo Montalban, Gabrielle Reyes, Britton Smith, NaTasha Yvette Williams.
Technical:
Set: Clint Ramos; Costumes: Dede M.Ayite; Lighting: Japhy Weideman