Images: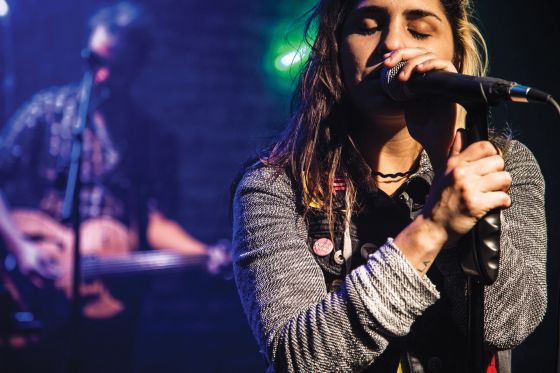 Theater Address:
1333 North Milwaukee Avenue
Review:
Whether you think that life is a "walking shadow" like in Shakespeare, or a "vale of tears" like in the Bible, or just an old-fashioned unvarnished bitch, there's no disagreement on its ending. Oh, sure, we may invoke the D-word in everyday casual conversation — as in "I could just you-know-what" — but do you remember the moment when you first realized, down deep, that one day, we will dddddiiiiieeeee?
Well, playwright Young Jean Lee does, and she wants to tell us not to be afraid of the inevitable. To that purpose, in We're Gonna Die, she recounts significant events in her own life that led her to contemplate the mystery of imminent oblivion — a creepy uncle crippled by self-loathing, a childhood game involving images of quasi-telenovela murders, the snubs of classmates, the breakup with a live-in boyfriend (who considerately rearranges the furniture to minimize the evidence of his departure). These experiences are merely the preamble to the most difficult confrontation of all — her father's death, fraught with grim irony from her tobacco-abstinent sire's diagnosis of lung cancer to his demise on the very eve of receiving a miracle cure.
Don't haul out your hankies yet, though. Lee has more to share than slam-poem eulogies. Her spoken-word narrative is accompanied by songs designed to extend us comfort, and unlike the play's premiere that featured the author declaiming in delicately gentle tones, narrator/singer Isa Arciniegas and the band assembled for this Haven Theater production proceed to rock out right into the Grim Reaper's bony face. For every soothing lullaby promising "You will sleep, by and by," the score delivers twice as many angry, head-banging, hair-thrashing, knee-springing, fuck-you-sickle-boy assurances that we are not alone, that nobody is exempt from pain ("Who do you think you are/to be immune from tragedy?") and that the ravages of old age will make dying less scary. ("If we got old/and we didn't feel like dying/we wouldn't want to go.")
The finale — replete with disco lights, balloons, confetti, drill-formation dances, American Sign Language translations, screaming guitar, crash cymbals and floor-percussion filling every corner of the Den's cabaret-sized Bookspan room — invites us to join in a fist-shaking marching-tempo anthem to defiantly proclaim our eventual expiration. Even if you accept the earplugs offered to playgoers before the show (which you won't really need), the catchy refrain of "We're gonna die/we're gonna die someday/Then we'll be gone/and it will be okay" will persist in your memory for weeks.
Miscellaneous:
This review first appeared in Windy City Times, 5/17