Images: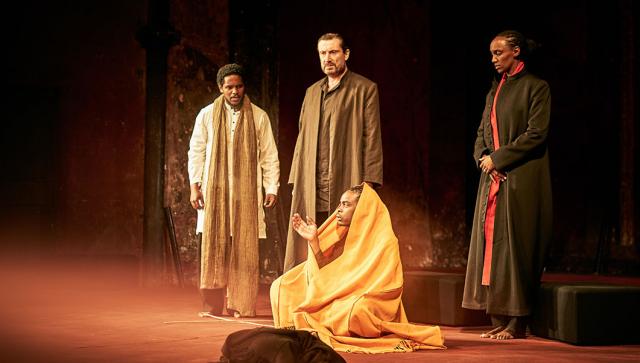 Company/Producers:
Wallis Annenberg Center for the Performing Arts/David Eden Productions
Theater:
Wallis Annenberg Center - Bram Goldsmith Theater
Theater Address:
9390 North Santa Monica Boulevard
Director:
Peter Brook & Marie-Helene Estienne
Review:
An epilogue to his famed stage version of the Hindu epic, The Mahabharata, which he directed some thirty years ago, Battlefield is Peter Brook's lament on the madness and futility of war.
The play opens with the blind warrior Dritarashtra (Sean O'Callaghan) bemoaning the human cost of the apocalyptic battle of Kurukshettra in which eighteen million people died. Now the once-bellicose royal wants to repent for his sins by becoming a hermit, only to be opposed by his mother (Karen Aldridge) and others close to him who beg him to make amends by becoming a just king and working for mankind's good.
That over-simplification does not do justice to the complexity of the ideas explored by Brook and collaborator Marie-Helene Estienne in their adaptation of Jean-Claude Carriere's stage version of Mahabharata. Brief as it is, Battlefield has much to say about man's divided nature, with the love of violence and war pitted against the need for justice and love. Although Brook admits he himself is pessimistic in that regard, Battlefield leaves it up to the audience to make up its own mind about the future of the human race.
The polemic unfolds on a near-bare stage, with just four barefoot actors in skimpy costumes playing various roles differentiated by simple touches (such as colored scarves). The actors were coached to think of themselves as story-tellers: thus they direct most of their lines at the audience rather than at each other. It makes for a distancing effect, one which sometimes caused me to think I was watching a dubbed foreign film.
Greatly enhancing the tempo and theatricality of Battlefield is Toshi Tsuchitori's solo drumming. Tsuchitori, who has worked with Brook since 1976, drives the action with his inspired musicianship, giving color and urgency to all of the play's speeches and arguments.
Battlefield may be miniature in size, but it is large in philosophy and poetry, food for serious thought about humanity's fate in an age of unending war and mass destruction.
Cast:
Karen Aldridge, Jared McNeill, Ery Nzaramba, Sean O'Callaghan
Technical:
Music: Toshi Tsuchitori; Costumes: Oria Puppo; Lighting: Philippe Vialatte