Images: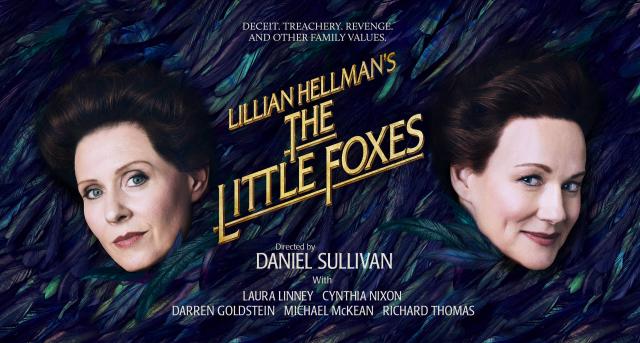 Theater:
Samuel J. Friedman Theater
Review:
How our perception changes with time and circumstances. In The Little Foxes, Regina Giddens is routinely excoriated for being a cold, heartless woman who'll do anything to get what she wants. In this day and age, that judgment is far from a foregone conclusion. Maybe in less skilled hands she's be the female equivalent of the moustache-twirling villain, but Cynthia Nixon lets us see so much more. Regina is intelligent, ambitious, and shrewd; none of these qualities has been rewarded in the atmosphere of the deep South in the spring of 1900. She received nothing from her father's will, has a husband who has no interest in sharing his financial information, and her daughter is clearly a daddy's girl. Her brother's advice boils down to "smile, and don't make trouble."
Indeed, Regina knows how to use her beauty and her charm. She and her brothers need a partnership with a rich industrialist from Chicago, Mr. Marshall (David Alford). Marshall is obviously taken with Regina, and she begins to contemplate what life would be like in the Windy City, away from the strictures of Alabama and her loveless family.
Regina's sister-in-law, Birdie (here played by Laura Linney), would seem to be her exact opposite. Birdie does nothing but smile, and receives nothing but scorn for her efforts. Her husband, Oscar (Darren Goldstein), treats her with total contempt, emotionally and physically abusing her. Birdie clings to whatever moments of joy she can achieve in her miserable life. She loves her niece Alexandra (Francesca Carpanini), known as "Zan." She enjoys playing the piano. Linney brings such sweetness to the role, we share her heartbreak at how untenable her life has become. We completely understand why Birdie drinks too much. And when she finally gets drunk enough to cut loose, it's a surprising and not unwelcome turn of events.
She debunks the idea that she's "got a headache" when in fact, she's just stewed. And she warns Zan away from the Hubbard plot to marry her off to the feckless Leo (Michael Benz). Even though he's Birdie's son, she knows he's nowhere near good enough for Zan. Why does Birdie put up with all the misery? She simply has no choice; she has no money, and no place to go; she doesn't have Regina's smarts, either.
The plan to team up with Marshall won't work unless the money comes through from Regina's husband, Horace (Richard Thomas). Ben (Michael McKean) has his doubts that Horace will ever return from the sanatorium where he's been staying to deal with his heart ailment. Ben is wily; he's not about to let anyone ruin his chances, let alone his sister. But Regina outfoxes him; she sends Zan to fetch her father home. And from there, things go from bad to very bad.
It's impossible to know how different the production is when Linney and Nixon switch roles. Both are consummate artists. But it must be said that the cast we saw was as close as you can get to perfection all around. Caroline Stefanie Clay makes us wish there were a play about her character, Addie, who is so obviously Zan's real emotional mother. Michael McKean brings a truly nasty sense of glee to Ben, who will gladly throw his siblings to the wolves for personal gain. When considered objectively, the actions of Horace are spiteful and destructive, but it's impossible not to like Richard Thomas.
As to the Ice Maiden herself, with our modern sensibilities, homage must be payed to Regina. Even in the midst of death and possible ruination, she keeps her head and manages to wind up on top. They may all hate her, but even as Nixon shows us a moment of the soft side of her triumphant character, she is all steel, hell bent to get what she's always needed. To paraphrase Davey Crockett, her attitude is clearly, "You may all go to Hell, and I will go to Chicago." Second City, look out. Another firestorm is coming your way.
Cast:
Laura Linney, Cynthia Nixon, Darren Goldstein, Michael McKean, Richard Thomas, David Alford, Michael Benz, Francesca Carpanini, Caroline Stefanie Clay, Charles Turner
Technical:
Sets: Scott Pask; costumes: Jane Greenwood; lighting: Justin Townsend