Images: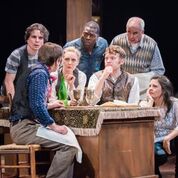 Company/Producers:
Milwaukee Chamber Theater
Theater:
Milwaukee Chamber Theater - Cabot Theater
Website:
milwaueechambertheatre.com
Review:
It's nice to see another Dickens classic being revived besides A Christmas Carol, arguably his best-known story. Milwaukee Chamber Theater tackles Great Expectations with a vengeance. Like Dickens's other books, Great Expectations has a large and varied cast of characters. Also, it floats from one location to another in the blink of an eye. And it carries the burden of delivering timeless themes about the nature of humanity. This is what great literature is all about.
And "literature" seems to be the main theme in this adaptation by Gale Childs Daly. It is ever-present: evident in the two tall bookcases that spin slowly as the main set pieces.
Only one of the actors, Josh Krause, plays a single character. That's Pip, who starts out as a boy of about seven and follows his journey to manhood. Through the years, Pip runs into a host of characters. He must learn which of them are friendly and which are charlatans. And there is Pip's constant amazement at being chosen – seemingly at random –to be elevated from a blacksmith's apprentice to a gentleman. Throughout the tale, Pip is repeatedly pinching himself at his good fortune. (Of course, his selection is not random, but he finds out the truth only near the end of the story.)
Incredibly, this adaptation has but six actors (and one violinist). Daly has the actors change costumes (and characters) in the blink of an eye. Sometimes they slip into new clothing upstage, often within view of the audience. To give an example, actor Jonathan Gillard Daly plays the lifelong criminal, Magwitch. A few scenes later, Daly may be playing a toddler or a judge or some very minor character who is introduced briefly and then disappears.
These quick-changes are orchestrated by director Molly Rhode. Like a traffic cop, she keeps the pace brisk as the actors hustle about the stage. In lesser hands, audiences could easily become confused by all the costume and character changes. Rhode, however, knows what she's doing, and the first act (one hour and 40 minutes) zips by faster than one might think.
Rhode also can be credited for mining the humor from Pip's sometimes dismal, precarious situation. The laughter reaches a peak when Pip steps out to see a hilarious rendition of Hamlet (it takes "bad acting" to new heights).
The cast rises to the occasion and offers scores of well-defined characters. One of the must-see performances is actor Deborah Staples as Pip's hideous older sister (this is a compliment). She smacks the young boy about when she's not congratulating herself on having raised him. Staples appears a moment later as the sad figure of Miss Havisham, cloaked in a faded wedding gown (just one of costume designer Jason Orlenko's fabulous outfits). Staples does right by one of the most famous characters in English literature. She gives the old, bitter Miss Havisham a bit of sympathy, especially when she sees that her goal for Estella has misfired.
Estella (Karen Estrada) is an orphan girl who has been trained to break men's hearts. Even at a very young age, Pip falls for the girl. When she leaves for her education in Europe, Estella is never far from Pip's mind. When he finds out the truth about Estella's birth parents, Pip does her a favor by keeping the sad facts to himself.
The production's one flaw is the speed in which it takes audiences through Pip's world. While this keeps the audience's attention (as previously mentioned), it also prevents us from investing in the characters. The audience may admire or reject what these characters do in the moment, but the scenes fly past so quickly that there's really no time to form strong opinions.
It doesn't help that Pip, the central character, fails to demonstrate much emotional development. The good-looking Josh Krause may look the part of a leading character. But he doesn't convey that Pip's "education" has made him a better, more authentic person, whether a gentleman or not.
However, Daly deserves much praise for attempting an almost impossible feat: to offer a carefully edited play based on one of Dickens's best-known works. Daly doesn't forget that Dickens wrote for "the common man." Although Dickens may make his characters into "gentlemen," his prose is meant for all to read, and to understand the larger messages.
Cast:
Josh Krause (Pip); Jonathan Gillard Daly (Magwitch, etc.); Zach Thomas Woods (Herbert, etc.); Deborah Staples (Miss Havisham, etc.); Karen Estrada (Estella, etc.); Chike Johnson (Joe the blacksmith, etc.); Andrew Crowe (musician).
Technical:
Set: Lisa Schlenker. Costumes: Jason Orlenko