Images: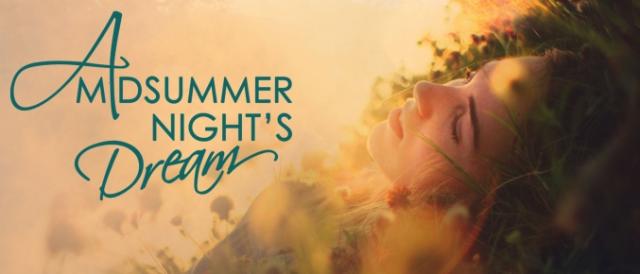 Company/Producers:
Florida State University - Asolo Conservatory
Theater:
Marie Selby Botanical Garden - Outdoors
Review:
To thematically unite the four plots of A Midsummer Night's Dream, director Jonathan Epstein has chosen change. FSU/Asolo Conservatory itself changes its venue to a beautiful outdoor setting with an inlet of water and isle of forest in back of a four-columned square of an inner stage. An expanse of grass between a tree with a bower on one side and bunches of bushes on the other complete the playing area, well lit by moonlight and all sorts of man-made lighting, including neon colors on costumes, even gloves.
The entire second-year Conservatory class, bolstered by a few freshmen as fairies, handle moving in the environment with gusto, Shakespeare's poetry as if natural prose, and modern musical beats because they fit the play's magical non-realism. Flashy dress helps immensely, whether royal wedding splendor or huge satiny wings or wandering-in-the-forest garb or what simple workers-become-actors of beasts and walls would wear.
Dark Anthony J. Hamilton acts regally as both Theseus and Oberon, a fit companion to Mary Ellen Everett's blond beauty as militant Hippolyta and wronged, then rightly restored to dignity Titania, queen of the fairies. He's well served by Andrew Bosworth as Puck, who, however, is more powerful than, well, puckish. He doesn't change so much from his first role as Egeus, an overbearing father who's determined to bend daughter Hermia to his will to have her marry a man she doesn't love. Maybe the intention is to have Bosworth show both characters who have power but, using it, make unite lovers mistakenly.
Cute Amber Lageman ably exhibits her forbidden love for Nolan Fitzgerald Hennelly's appealing Lysander as well as her pitiable frustration when, due to erring Puck's potion, he changes and rivals Demetrius (Dustin Babin, agile and gallant).
Of particular note is Colleen Lafeber's tall and touching, dogged then dignified Hermia. She reminded me of the first actress I saw in the role making her Stratford-on-Avon debut in 1959: Vanessa Redgrave.
Of the five rude mechanicals who stage a drama for the royal wedding, Kedren Spencer may be cast nontraditionally, but that's hardly notable when she's Bottom the masked donkey Titania swoons over. Her real over-the-top take-over nature comes to the fore as she plays (sort of) another man, Pyramus, and would gladly do all the parts. It's good that she doesn't because all the antics do add a bit much to the length of the performance.
Wes Tolman's cooperative, colorless Francis Flute changes into hilarious Thisbe. He and director Peter Quince (decisive Aleksandr Krapivkin, of strange accent) keep the lid on Pyramus. Christopher Carlson doubles comically as a Wall and Moonlight, while Amy Helms roars so (she thinks) strongly as a Lion that she has to reveal she's actually Snug the Joiner. Andrew Hardaway and Sara Linares fly and creep around as fairies Cobweb and Peaseblossom. It's impossible not to notice deep-voiced Lawrence James as a dominant fairy, Mustardseed.
No faulting the technical crew. The production is as professional in every respect as one could wish. Director Jonathan Epstein has a right to be proud of it and of looking forward to next year when he can again bring his students in a Shakespearean play to Selby Gardens.
Cast:
Anthony J. Hamilton, Mary Ellen Everett, Andrew Bosworth, Amber Lageman, Colleen Lafeber, Nolan Fitzgerald Hennelly, Dustin Babin, Aleksandr Krapivkin, Kedren Spencer, Wes Tolman, Christopher Carlson, Amy Helms, Andrew Hardaway, Saara Linares, Lawrence James
Technical:
Set & Lights: Chris McVicker; Costumes: Becki Leigh; Sound: Rew Tippin; Vocal Coach: Patricia Delorey; Production Stage Mgr.: Devon Muko
Miscellaneous:
DEET (free bug spray) is provided near the entrance to the Garden.