Images: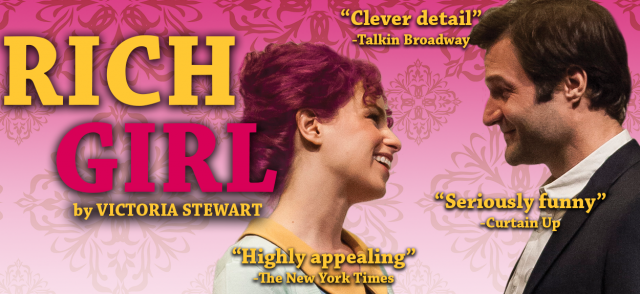 Theater:
Florida Studio Theater - Gompertz Theater
Review:
Henry James started all this with his short novel, "Washington Square." Ruth and Augustus Goetz make it into a hit play, The Heiress, which was made into a hit movie. It's back onstage, updated a century, with a similar heroine, a Rich Girl who's very inhibited and not very attractive. This time it's her mother (not father) who's cowed her. Except for the mother's well made-up looks, she's not attractive either. Neither is Victoria Stewart's overlong and under-absorbing melodrama.
Ali Rose Dachis is Claudine, the titled girl with no money of her own or self-confidence or pride in the little work her mom gives her. Her feelings of her worth are like her satiny fuschia hair, obviously surface. Dachis projects Claudine's real value to the audience and her mom's assistant Maggie (sensible, sensitive Tanesha Gary) but not to her mom or, it's said, most other people.
Allison Daugherty's Eve (symbolic name?) televises "Money Make-Over" as if she invented financial success. Actually, she's a failure not only as a mother but as a human being. Because money is all important to her, she's not about to let any wealth-seeking guy marry the gal who'll probably inherit the family wealth.
Justin Adams fits easily into the part of handsome Henry, whom Eve loves to hate but Claudine just loves. He's put to the test by Eve, a test involving spiriting Claudine away at one point as well as a hoped-for revelation that hard-up Henry may really love not Claudine but her wealth. And there's a later matter of Claudine and her fortunes changing.
A major problem with Victoria Stewart's play is that the only likeable character is Maggie. The others are either uninteresting or uninvolving. Another problem is that, once Claudine goes natural with her hair and activities, neither her appearance nor her abilities are difficult to appreciate — which kind of blows the dramatic dilemmas away.
Did I mention that there's a lot of repetition of anxieties and the whole play takes a lot of time to come to a conclusion? Still, it's difficult to see how director Jessica Holt could have speeded things up. The script could use scissoring.
One of the few production pluses is Eve's apartment, reflecting well her taste and financial status. The costumes too are right on. A cashmere coat for Henry importantly defines ambition. Kudos also for Claudine's hair and for Eve's when she removes her wig. Audience members I overheard seemed to remark about these as much as about the "too slow" play.
Cast:
Ali Rose Dachis, Justin Adams, Allison Daugherty, Tanesha Gary
Technical:
Set: Isabel & Moriah Curley-Clay; Costumes: Abby Parker; Lights: Justin A. Partier; Stage Mgr.: Roy Johns