Images: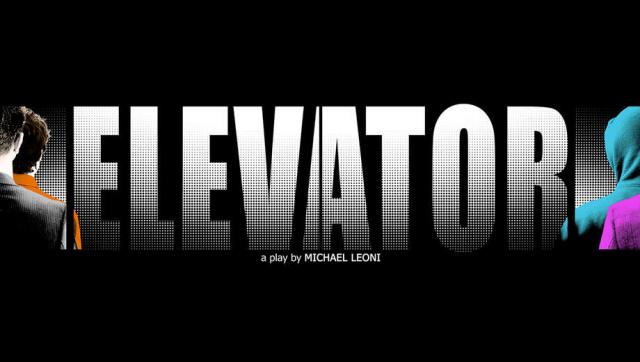 Theater Address:
8325 Santa Monica Boulevard
Review:
Everybody's nightmare — being trapped in an elevator with a bunch of strangers — comes true in Michael Leoni's hilarious play, Elevator, which has returned to L.A. after successful productions elsewhere in the USA.
Sartre said hell is other people, and that's borne out when the breakdown first occurs and a loud-mouthed, arrogant businessman (David Abed) tries to take command of the situation by insulting and bullying the other victims, all of whom he considers his inferiors. This motley crew includes a CEO Woman (Deborah Vancelette), an Office Temp (Erica Katzin), a Hot Girl (Karsen Rigby), a Goth Girl (Kristina St. Peter), a Musician (Devon Werkheiser), and the building's Maintenance Man (William Stanford Davis).
The danger of being stuck in a stalled, high-rise elevator is not insignificant; every once in awhile, the elevator makes loud grinding noises and suddenly drops ten floors, only to bounce back up like a punch-drunk boxer. Leoni uses several clever techniques to find the humor in all this peril. We often hear, in a voice-over, what each character is irreverently thinking while either talking to or observing his neighbor. Leoni also choreographs several key moments by having his actors suddenly strike comic, revelatory poses which they hold for several beats before relaxing and returning to reality.
Other surprises are in store for the audience. Leoni keeps revealing new things about each of his characters, keeps peeling back one layer of truth after another, revealing the very essence of that person's humanity. It gives depth and substance to what easily might have come off as a slight, trivial piece of theater.
Kudos should go as well to Leoni's cast, all of whom prove to be skilled farceurs as well as actors. Their strong, confident performances help make Elevator the trippy hit it is. David Goldstein's atmospheric set and lighting are big pluses, as well.
Cast:
David Abed, William Stanford Davis, Erica Katzin, Karsen Rigby, Kristina St. Peter, Deborah Vancelette, Devon Werkheiser, Tyler Tanner (as several voices).
Technical:
Set/Lighting: David Goldstein; Music: Mario Marchetti and Devon Werkheiser; Sound: Paul Seradarian; Costumes: Michael Mullen; Makeup: Linda Michaels; Stage Manager: Kristin Bolinski