Images: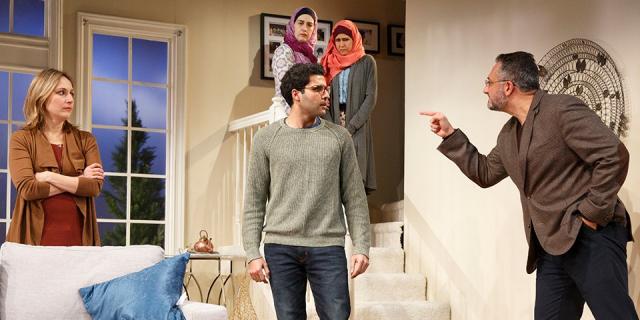 Theater:
Playwrights Horizons - Peter Jay Sharp Theater
Review:
On the one hand, this is a play about the question of who is, or isn't American, and equally who is, or isn't Muslim. On the other, it's about the worst Thanksgiving ever, and the ordeal of meeting the in laws for the first time.
In The Profane, Emina (Tala Ashe) brings home her boyfriend, Sam (Babak Tafti) to meet her family. The scariest for him to face is Raif (Ali Reza Farahnakian), family patriarch. He's having his own problems as a famous writer who no longer feels inspired by the muse. He's liberal, non-sectarian, and a devoted New Yorker. Nowhere near as formidable are Emina's lesbian bartending sister, Aisa (Francis Benhamou), and her mother, Naja (Heather Raffo). The house is crammed with books. Although Emina assures Sam that all will be fine, he instinctively knows better.
The second act finds us in White Plains, at the home of Sam's devoutly Muslim family. They will be hosting Emina's mother and father, meeting them for the first time. Sam begs his family to cool the religious angle — "don't rub their noses in it" — while his mother, Carmen (Lanna Joffrey), bustles about making sure the outdoor picnic will go well. She's brought in tons of food, and is helped by Dania (also Ms. Benhamou) who nervously declares she won't be present when the guests arrive.
Who is Dania, really? Why is she so shy? Sam's dad, Peter (Ramsey Faragallah) bends over backwards to be a gracious host, but all hell breaks loose when his family's secret is revealed.
It's illuminating to see what many Americans forget, or don't know. Among Muslim people, there are many different opinions and levels of belief. With our current climate of Islamophobia and immediate fear of those who are not like us, The Profane is an important work, and a reminder that all people have their own problems and issues, often not so different from our own.
Cast:
Tala Ashe, Francis Benhamou, Ramsey Faragallah, Ali Reza Farahnakian, Lanna Joffrey, Heather Raffo and Babak Tafti.
Technical:
Sets: Takeshi Kata, Costumes: Jessica Pabst, Lighting: Matt Frey