Images: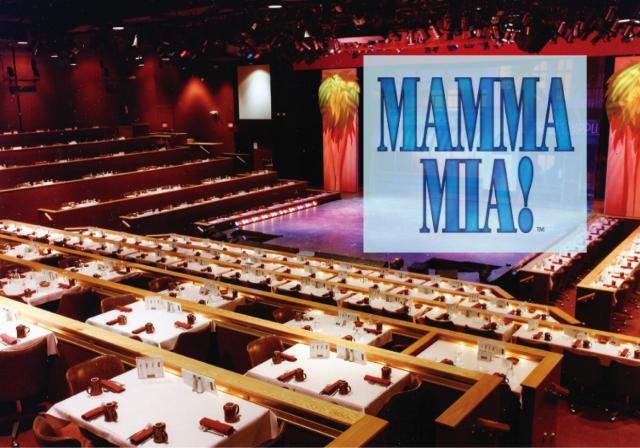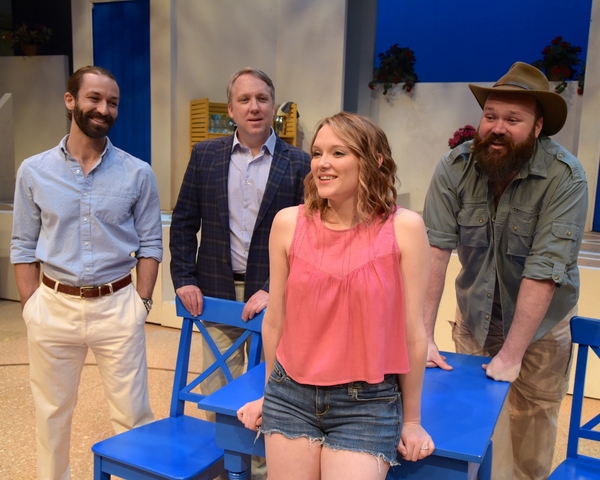 Company/Producers:
Bill Stutler & Bob Funking
Theater:
Westchester Broadway Theater
Review:
There's a good reason Mamma Mia! ran for 14 years on Broadway; it's just plain fun. Who wouldn't want to be on a scenic Greek Isle, preparing for a wedding celebration?
As the show opens, we see a shimmery blue curtain in the background, and hear the sounds of the sea. Mariah MacFarlane is perfectly cast as the bride to be, 20-year-old Sophie. She's lovely to look at, has a compelling voice, and delivers the perfect mix of spunk and wistfulness. Sophie has a dream; she wants her father to give her away. The problem is, she doesn't know who he is. She finds an old diary her mother wrote in 1979, and the pieces begin to fall into place. Mom had intimate moments with three different men around the time Sophie was conceived.
It's easy to see the appeal Donna had. Even years later, and dressed in overalls, she's still a knock-out. Michelle Dawson is a seasoned performer; she's as at ease on stage as most people are in a bubble bath. She exudes warmth, and exemplifies the capable, independent woman who is strong without being tough. We learn that even though she was a free spirit, Donna was not promiscuous. She was very much in love with Sam Carmichael (Xander Chauncey), who broke her heart by telling her he was going home to get married. To soothe her aching heart, she had brief encounters with adventurer Bill Austin (Brent Bateman) and gentle Harry Bright (Kilty Reidy). It's these three men Sophie has invited to her wedding. When Donna sees them all together on her island, she's more than a little flustered. After an evening of festivities, they all agree to walk Sophie down the aisle, each believing he's her dad.
A lot of the fun in Mamma Mia! comes from humming along — softly — with the popular old tunes. "Dancing Queen" holds up the best, but it's also enjoyable to hear other faves, "Honey, Honey," "Money, Money, Money" and "Thank You For The Music" among them.
A highlight of the evening is experiencing Donna and her two best friends, super glam Tanya (Elise Kinnon) and down-to-Earth Rosie (Jennifer Swiderski) reliving their past glory as the girl group "Donna and the Dynamos." These talented women rocking on in their aqua jumpsuits and gold boots, complete with all the bling and fringe intact, is well worth the price of admission.
This production of Mamma Mia! brings the sass, style, sentiment, and golden tunes that make for a totally enjoyable evening for the young and the young at heart.
Cast:
Michelle Dawson (Donna), Mariah MacFarlane (Sophie), Elise Kinnon (Tanya), Jennifer Swiderski (Rosie), Xander Chauncey (Sam Carmichael), Brent Bateman (Bill Austin), Kilty Reidy (Harry Bright), Nathan Cockroft (Sky), Connor Wince (Pepper), Matty Rickard (Eddie), Sydney Patrick (Ali), Cameron Anika Hill (Lisa)
Technical:
Set: Steve Loftus, Lighting: Andrew Gmoser, Costumes: Matthew Hemesath