Images: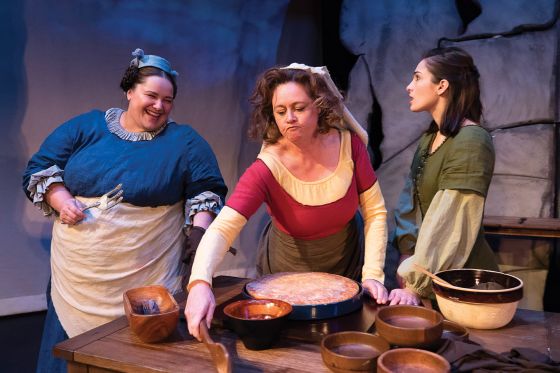 Company/Producers:
Idle Muse Theater Company
Review:
No one disputes the practicality of eliminating options as a means of expediting decisions — the fewer possibilities, the easier the choice, right? That's not how our big sloppy world works, however, and therein lies the lesson illustrated in Joseph Zettelmaier's speculations on a fragment of historical minutiae.
The aforementioned fragment recounts how a Jewish servant of King Edward III was tortured and subsequently executed by Italian partisans after being forced to make a false confession of attempted murder and terrorism.
Zettelmaier's play, The Scullery Maid, opens at Nottingham castle during the summer of 1360 — not in the Great Hall, where the English and French monarchs are celebrating the recent treaty of Bretigny — but in the kitchens, where labor shortages stemming from international conflict and homeland devastation (e.g. Bubonic Plague) have reduced the staff to chief cook Bess, ex-royal playmate Dulcie and orphaned ward-of-the-state Miriam.
Gradually, we learn that Miriam is the daughter of the unfortunate emissary to Italy and that revenge has led her to conspire with French-born steward Henri Pascal in a plot to commit regicide that very night.
While Zettelmaier's early career as a stage-combat instructor mandates a measure of violence (deftly choreographed for this Idle Muse production by Libby Beyreis), playgoers anticipating lurid Game-of-Thrones thrills may be disappointed to discover the question beguiling the author to be that of how assassins are created — a concern not unexplored in our own time, no answer having yet arisen despite centuries of inquiry.
Isolated within the castle walls after the death of her parents, Miriam knows only that her father met his doom at the behest of a warmongering King whose reign will bring only more persecution of her people. Not for nothing has Edward Plantagenet survived decades of family intrigue, though. When he encounters the resolute young woman in his chambers bent on poisoning him, he proceeds to argue the holiness of her mission, introducing doubts regarding the accounts promulgated by mentors seeking an agent to fulfill their own self-interests.
Audiences in countries whose leaders practice the transparency that ours do may find this type of conversational drama a bit on the dry side, but under the direction of Evan Jackson, Lydia Hiller and David Skvarla articulate their personae's manifesti with dignity befitting the solemnity of the topic and their physical confrontations with appropriately visceral vigor. Leslie Hull, George Ellison and Ann Marie Lewis likewise display an unprejudiced candor as commoners for whom idealism is costly, but pragmatism all too affordable.
Miscellaneous:
This review first appeared in Windy City Times, 3/17