Images: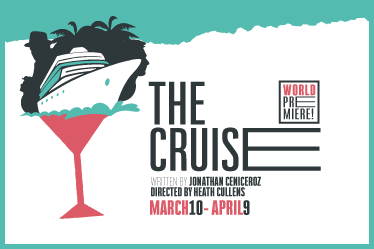 Theater:
Los Angeles Theater Center
Review:
The Latino Theater Company has given a new play by a young L.A.-based Mexican-American playwright, Jonathan Ceniceroz, its world premiere at the Los Angeles Theater Center. Called The Cruise,, the five-character play is set aboard a luxury cruise ship toodling around the Caribbean islands; the secondary meaning of the title refers, of course, to the insatiable hunt for sex on the part of some homosexuals.
Unfortunately, the gay component of the story is the weakest part of the action, a father-son conflict which misfires owing to the lack of urgency and believability. The actors who play those roles — Ric Salinas and Kenneth Lopez, respectively — do their best to pump some life into the proceedings, but are defeated by Ceniceroz's diffident writing.
Salinas, a member of the famed comedy troupe, Culture Clash, is an "enrichment lecturer" aboard The Majestic, but for some inexplicable reason he is working this gig under a pseudonym. He comes out of the closet on the first day out of port to his outwardly gay son, James, who barely raises his eyebrows when he hears the news.
It's James's maiden trip on The Majestic; unused to the sea, he spends his time being seasick, which might account for his obtuseness.
Brian Wallace plays Boyd, the cruise director (with a bad German accent) who, again for mysterious reasons, has it in for Salinas (a gay sex complication is only hinted at). Gary Lamb and Carolyn Almos are a married couple, cruise veterans and "good" Republicans who take a liking to young James despite his leftist politics and queer orientation — and help him solve his identity problems by offering him a cushy job with their PAC.
There are moments of high-jinks and levity aboard The Majestic (deluxe set by Brittany Blouch), but for the most part, the play unfolds in a stiff, undramatic way which neither the playwright nor director can remedy.
Cast:
Carolyn Almos, Kenneth Lopez, Ric Salinas, Gary Lamb, Brian Wallace
Technical:
Set: Brittany Blouch; Costumes: Manee Leija; Lighting: Justin Huen; Sound: Ivan Robles; Props: Anonieta Castillo Carpio; Stage Manager: Jagger Waters