Images: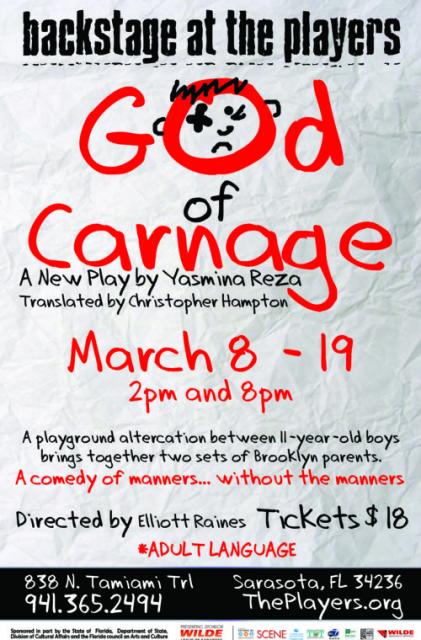 Review:
As flies to a wanton God of Carnage who kills for sport are the two couples in Yasmina Reza's collision of civilized society with its opposite. They meet because one of their ll-year-old sons hit the others' son with a stick and took out two of his teeth. It happened just that afternoon in a schoolyard. Now the parents are dealing with the incident at the modest Brooklyn home of the injured.
African art and books on the coffee table reflect part-time bookstore worker Veronica Novak's interests as a writer. She has a book on Africa due out. Pleasant-seeming Jaszy McAllister's bright headdress and dashiki characterize Veronica as much as her insistent interest in insurance to meet her boy's medical needs, probably also an apology. A slouching, irked Dylan Jones as Michael Novak manifests having had a hard day wholesaling housewares after a pet hamster disturbed his previous night's sleep.
His offending son's "a savage," shouts out Paul Hutchinson's domineering lawyer Alan Raleigh, always on his cell phone doing business to the disgust of wife Annette (Carrie McQueen, snarling at him, sophisticated toward the Novaks). A wealth-management consultant, she reflects personal wealth with her designer black outfit and tasteful shiny jewelry. She quickly pounces on Michael's admission that he threw the hamster outside. Then she continues to berate his careless selfishness.
Veronica tries for calm by serving coffee and a homemade apple-pear pastry that Alan likes between calls but fails to calm Annette. She's despises Veronica's domesticity and Michael's crudity and his growing commerce with Alan.
Annette vomits over the coffee table and its books (that Michael terms "household gods"), a turning point in the relationships based on personalities, gender, and marital differences. Fueled by rum, changes in arguments and loyalties — and even the health of Michael's ailing mother phoned in during the upheaval — go so far as to cause violence.
Now all of this action, illustrating the constant struggle in people (here especially married couples) between civilization and savagery, is serious business. But as written by Reza and directed by Elliott Raines, it's uproariously funny! The expressions on the actors' faces alone elicit their opposite, laughter. So does the triviality of their characters' personal hurts and the manners in which they try to retaliate.
Up front in the intimate Players Backstage, an audience can't miss even nuances — and the performing of them evidences director Raines's keen awareness of the space.
Alyssa Goody's simple set with Donna DeFant's Africana-infused props and simple furnishings tell much about Veronica and how different she is from her husband. Also, one could never imagine the Raleighs in such a house. God, though, wouldn't seem to be at home at either couple's carnage-filled domicile.
Cast:
Jasmine "Jaszy" McAllister (Veronica Novak); Dylan Jones (Michael Novak); Carrie McQueen (Annette Raleigh); Paul Hutchinson (Alan Raleigh)
Technical:
Costumes, Props: Donna DeFant; Set: Alyssa Goudy. Lighting: : Christina Shollenberger