Images: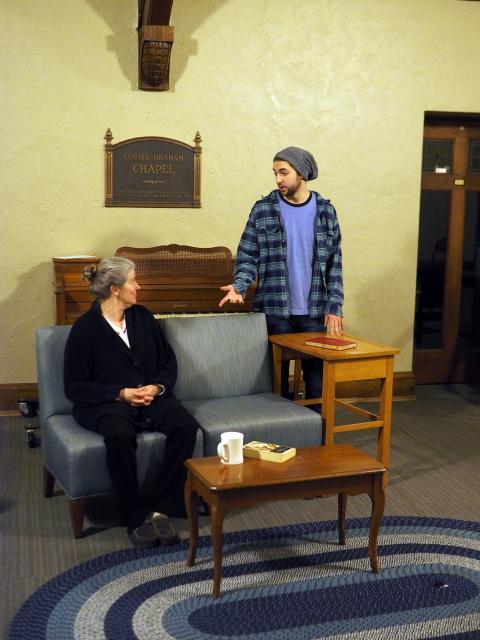 Theater Address:
2717 East Hampshire Street
Director:
Mark Bucher & David Flores
Review:
Who loves a Shakespeare play the first time they read it? Not many high school students, and certainly not "Murph," who's now in college and trying to wrap his head around the Bard. Perhaps an intensive series of study sessions with the school's premier Shakespeare scholar will help him live up to his mother's expectations. That's the premise of John Murrell's Taking Shakespeare, which received its Midwest premiere in a production by Milwaukee's Boulevard Theatre.
The play was mounted in the company's relatively new home, Plymouth Church, located at the edge of the UW-Milwaukee campus. Only yards away from the show, real college students are learning to "connect" with Shakespeare in a way that the fictional Murph apparently cannot.
Murrell's play had its world premiere at Stratford's Shakespeare Festival in 2013; its US premiere came a year later in a production by Florida Studio Theater.
The Milwaukee version was staged in one of the church's upper meeting rooms. This show demands more of the audience's imagination than most: The "set" features a piano, a makeshift couch and a couple of small tables. This is supposed to be the well-worn apartment where the "Prof" (Amy Callahan) has lived for almost 35 years. In addition, there is no stage lighting, no exits other than the room's natural ones, and no costumes, per se, although the two actors do change outfits for each of their weekly meetings.
The aging Prof (Amy Callahan) and her slacker student, Murph (Jake Konrath), are initially at odds with each other. Murph's only experience with reading Shakespeare was a high school class in which he was assigned to read Hamlet. Feeling that he couldn't connect with anything in the text, he abandoned the play about three-quarters of the way through it.
Murph admits his only reason for seeking the Prof's help is at his mother's insistence. By the way, she's the college dean where the Prof is employed, which raises the stakes immeasurably (and unfairly) for her. It seems the mother was formerly a student at the same college she now leads, and was transformed by her undergrad experience in learning Shakespeare from the Prof.
The play's weak construction doesn't give the actors much solid ground to walk on. The sixty-something Prof is facing extinction at the college, as "nobody is taking her classes anymore," per one senior college official. As the Prof, Callahan's best moments are when she quietly reflects on a life that has given her a mentally rich experience but may not be of much value to others. Murph, who still lives with his mom, is facing the fact that she has "confiscated" his video games until he can live up to her expectations in school. Konrath excels at portraying this moody youth who yearns to break free from his mother's expectations.
However, there are too many contrivances in Murrell's play to make it believable. For instance, in a few miraculous weeks, Murph progresses from stumbling over Shakespeare's words to discussions with the Prof about iambic pentameter and feminine endings. This unlikely arc is more than these actors can overcome.
Boulevard Theatre is known for giving new actors a chance to sharpen their skills, and it has been doing that successfully for 33 years. But Murrell's play probably couldn't be saved even in the hands of Vanessa Redgrave and a young Matthew Broderick.
The Boulevard can be credited for consistently introducing new plays to Milwaukee. But Taking Shakespeare is probably the worst misstep this reviewer has seen in her years of attending Boulevard performances. Loyal Boulevard season subscribers have learned long ago that some of the company's works are better than others, and that Taking Shakespeare is a rare slip in the company's overall artistic vision.
Cast:
Amy Callahan (Prof), Jake Konrath (Murph).