Images: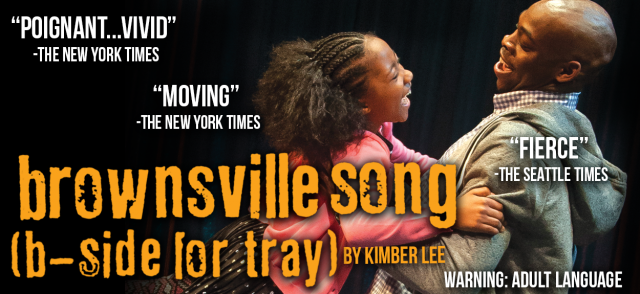 Theater:
Florida Studio Theater - Gompertz Theater
Review:
A teenager named Tray is dead. But he lives in the memories of his grandmother Lena. If Tray were depicted on an old 45 rpm record, how his death came about would be on the A side of a tragic story too frequently told in his Brownsville Brooklyn neighborhood. The B side depicts Tray as an individual caught up in time, place, and situations that illuminate his story as an important part of current events — that is, contemporary history.
Lena (strongly depicted by Alice Gatling) begins the story, to be told in flashbacks. Presented via its past rhythms rather than chronology, scenes involve Tray's last days. He kept avoiding joining a neighborhood gang in their fights for power and pushing drugs. He'd been a school boxing athlete and hoped to get a college scholarship. Lena kept goading him to complete his application.
The sweetest scenes show Tray affectionate toward his sister Devine, 8, a would-be ballerina, when she and his ghost danced together as well as when in real life he brought her to and from school. (Catalina Grieco, one of two who plays Devine, performed the night I reviewed and made a special impression in a dance-acting as a tree in nature.) Devine's hope is always to escape to the world beyond.
Tray and Devine's Asian-American mother Merrell, who abandoned them supposedly to escape Brownsville, returned after being in rehab from years of alcoholism. Lena was suspicious of the daughter-in-law who would have been important to her kids after their father was fatally shot. Rachel Lu plays Merrell as truly repentant.
To make up for her neglect, Merrell persisted in encouraging Tray to apply for his scholarship. As a former English teacher, she made practical suggestions about his writing skills but mostly about Tray's need to express his personal self and ambitions. She sought and gained his help to get a job at Starbucks. It was not easy-going for either of them. As Junior, a neighborhood guy, Warren Jackson made that very clear when he made a Starbucks order.
All the efforts of Lena, Merrell, and Tray led to an ironic success for him, which closes the play. As for Tray's death, Junior calls it as business as usual. Playwright Kimber Lee suggests no simple solution for the problems of Brownsville, as faced by Tray and his family.
Director Kate Alexander, who always encourages actors' abilities to persuade within their roles, makes it clear that everyone in America should be concerned with finding whatever solutions are needed. At least, people should want to understand what's behind reports of urban murders, without dismissing hope for better.
Set designer Ken Goldstein rightly keeps emphasis on Lena's family home and its relationship to the immediate outside. It's a bit tricky, but Starbucks comes on and offstage quickly. All the technical elements are well designed but Thom Beaulieu's Sound is most highly important, because it supplies the background beats for the rhythms of what is done onstage.
Cast:
Alice Gatling, Wesley T. Jones, Warren Jackson, Rachel Lu, Deysha Nelson/Catalina Grieco
Technical:
Set: Ken Goldstein; Costumes: Matthew Lefebre; Lights: Rachel Budin; Sound: Thom Beaul`ieu; Stage Mgr.: Roy Johns
Miscellaneous:
I saw this play in its initial showing at a Humana Festival two years ago; it may have been developed further since then. Florida Studio Theater's production, in any case, I found superior. It is less like an attempt to use a clever theatrical structure than to convey how social and economic conditions (and by implication political ones) are producing wasted human potential.