You know that famous Boston TV bar, Cheers, where everybody knows your name? In theater, that would be true of New York Post's theater gossip maven Michael Riedel. Everyone who's anyone and then some know his name. Some have praise for his gotcha journalism as long as it's in praise of them. Others -well, you know. Riedel wields enormous power - as much as and maybe more than top critics. Producers take his calls and have his ear for any morsel of an exclusive.
Once, at a theater publication where he, I think, fresh out of university, was in a top editorial position, he was being vindictive in print toward an actor. I, a lowly contributor, politely castigated him, saying, "You'll never get anywhere being cruel." He laughed. Did I bungle that! One of the many times I've been wrong. Of course, you can make a career out of it—if you don't mind stepping on toes and hurting people.
Riedel's come a long way. His columns are eagerly anticipated. He has a loyal TV following for almost two decades, as co-host with Susan Haskins, on THIRTEEN's Theater Talk, engaging the crème de la crème of theater folk in insightful conversation. Turning aside from the occasional forays noted above, Riedel has a deep knowledge of the business of show. He digs to get the nitty gritty and manages to make it entertaining.
He can be nice, even charming, but he knows his way around a boiling pot and how to stir and stir it. Riedel may be the only person who can get blood out of a turnip. Sometimes, you may not like what he writes—and he can be cruel (you can't wait to read it), but he gets it right 99 percent of the time.
Anyone who's followed Riedel knows he can write with beguiling naiveté and has a yen to act (there's a slim chance he'll ever be grasping a Tony and the probability I'll be wrong again). Now, he finally has his name in lights: on the cover of his theatrical tell-all, Razzle Dazzle: The Battle for Broadway (Simon & Schuster; 447 pages; hardcover/e-book; two notated B&W photo sections; B&W double-trunk endpapers of the Deuce before and after Disney; 10 pages of source notes; four-page bibliography; index; SRP $27).
There isn't a lot or razzle dazzle for 63 pages, as Riedel he takes us through the creation of Broadway as we now know it, the moguls-that-were-and-are, their behind-the-scenes intrigue and power ploys, feather-bedding, and questionable business practices. Readers may not be too shocked to find some legendary names were corrupt. A few noble ones certainly had more on their minds than ars gratia artis--as in Metro-Goldwyn-Mayer's Latin slogan that translates "art for art's sake."
Things start to pop with potboiler tales of Broadway's so-called Golden Age and such important players as Berlin, Rodgers and Hart, Rodgers and Hammerstein, Porter, Lerner and Loewe, Bernstein, Comden and Green, and Robbins; death and rebirth of Broadway; players such as Merrick, Prince, Fosse, Bennett; the game-changer, A Chorus Line; and the Brit invasion.
It gets more riveting as New York declares war on drugs, massage parlors, and the derelicts of Times Square; then comes urban renewal as historic theaters are razed in the name of progress; and rivalries emerge among producing entities.
The most entertaining portion comes as Riedel builds suspense recounting the bitter battle for awards and audiences of two vastly different musicals, Nine and Dreamgirls. Both had troubled beginnings (one had a leading lady with rapturous reviews who knew how to get under her director's skin a la antics worthy of Judy Garland), but ended up having huge box office. Dreamgirls, with music by Henry Krieger and lyrics/book by Tom Eyen, was a fast-paced, showbiz musical with R&B overtones, about a trio of Chicago vocalists loosely based on The Supremes and Diana Ross's solo stardom. Directed by Michael Bennett, it opened December 20, 1981 at the Imperial on West 45th Street; and was nominated for 13 Tonys, including Best Musical - and won six.
Nine, an adaption of Fellini's semi-autobiographical film "8½" by Mario Fratti with a score by Maury Yeston, was an epic-staging with knock-out costumes and sex appeal. As the project developed, Arthur Kopit was hired to further develop the book.
Set in a spa in the environs of 60's Venice, Nine told of a famous director's midlife crisis as he turns 40: his addiction to women, and the loss of creativity. Directed by Tommy Tune, the show opened May 9, 1982, the absolute deadline for nomination consideration, at the 46th Street (now, Richard Rodgers); and was nominated for 12 Tonys and, in a heated contest among producers and voters, took home five, including an upset as Best Musical.
Though the entrances are on different streets, the theatres abutted, which led to stories of trembling walls; fierce competition; name-calling; Bennett, recovering from the failure of Ballroom, turning to drugs and heavy drinking; rumors of Oscar-like canvassing for votes; and accusations of payoffs. Then came the error in judgment of a Broadway producer and the betrayal of New York Times critic Frank Rich.
Subsequent chapters deal with the Brit invasion; the impact of AIDS; the sung-through Chess (a West End smash conceived by Bennett (after a bitter start due to relations with Tim Rice), and ABBA's Benny Anderson and Björn Ulvaeus; the cover-up of Bennett's AIDS diagnosis; Trevor Nunn taking over after a blackmail megadeal for a tour of his Nicholas Nickleby--and the musical's failure on Broadway, with a new concept directed by Nunn, but with the fatal mistake of adding a book.
"Razzle Dazzle" continues onward and upward with Sondheim's critically-acclaimed works, the arrival of Les Miserables, Andrew Lloyd Webber's phenomena Cats and The Phantom of the Opera, Disney Theatricals' emergence as a Broadway powerhouse, the world-wide success of ABBA's Mamma Mia!, right through to the changing of the guard at the Shubert Organization.
[END]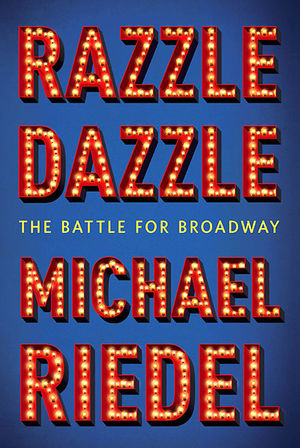 Subtitle:
Michael Riedel Pens a Theatrical Tell-All