Company/Producers:
Paul Blake, Sony/ATV Music Publishing, Jeffrey A. Sine, Richard A. Smith, Mike Bosner, Harriet N. Leve/Elaine Krauss, Terry Schnuck, Patty Baker/Good Productions, Roger Faxon, Larry Magid, Kit Seidel, Lawrence S. Toppall, Fakston Productions/Mary Solomon, William Court Cohen, John Gore, BarLor Productions, Matthew C. Blank, Tim Hogue, Joel Hyatt, Marianne Mills, Michael J. Moritz, Jr., StylesFour Productions, Brunish/Trinchero, and Jeremiah J. Harris.
Review:
Whether found on the stage, TV, at the movies, or housed at your local museum, there is nothing more challenging, or, for that matter, more annoying, than having your own lifetime experiences recycled and sold back to you.
Sin number one is that you have to pay for it. Sin number two is that they never get it 100 percent right. Of course, one could say the same thing about the storied obituaries found in the New York Times, the fictionalized resumes of job applicants, and your own diary jottings. There is a lot of padding, skip-overs, eliminations, and stretching of points. Still, there are times, especially in theater – which is the one live art most in your face – when getting every little fact down is far less important than catching the essence (a tried-and-true fact that Jersey Boys and Motown The Musical are still capitalizing on).
Beautiful: The Carole King Musical, currently at the Stephen Sondheim Theater on Broadway, is another prime example where song and dance, beautifully delivered by a talented cast and crew, trumps the storyline. The feel-good script, sanitized to a fare-thee-well, is thinner than a slice of bologna. Nowhere is it mentioned that King formed a band called the Co-Sines in the 50s and made demo records with her friend Paul Simon for $25 a session. Nor are we told that King was married four times or that she birthed four children. On top of this, some twenty years plus of King's life remains unaccounted for.
Also shockingly missing – I told you they don't get things 100% right – is the fact that Carole King attended James Madison High School in Brooklyn, the same one that I attended, or that Carole Klein (as she was known in those years) belonged to Gamma Phi, the same sorority as my sister Annette. Nor was it even alluded to that King used to come over to our house and was in no way the shy lady the play makes her out to be. Like all of Annette's chatty sorority sisters, Carole had an opinion about everything.
Missing information aside (since who other than me wants to know such stuff?), let it be said that King's heart-swelling songs, beautifully delivered by Jessie Mueller and company, transported me back to my wee youth. Yes, those of us long in the tooth are made to feel young and vital again. For those too young to know much about Carole King – which includes most people under 50 – you can go to Wikipedia, which I did. King's career, started to blossom in 1960 at the tender age of 18, with her number-one hit, "Will You Love Me Tomorrow." Written with Gerry Goffin, King's first husband, the only one you get to meet face-to-face in the play – the song was recorded by the Shirelles.
After her first album flopped, King's career climbed to the top of the mountain with 1971's "Tapestry," which allowed the lady for a second time to play the piano and sing her own songs. It sold 25 million albums worldwide. Winning four Grammys, "Tapestry" remained on Billboard's chart for an unheard-of six years.
Many awards, too many to list, were to follow. King was inducted, along with Goffin, into the Rock and Roll Hall of Fame in 1990, became the number 2486 star on the Hollywood Walk of Fame (in 2012), and was awarded the Grammy Lifetime Achievement Award in 2013. And now, she is conquering Broadway.
Reawakening us to the singer-songwriter's vast repertoire, Beautiful opens with King, stunningly brought to life by Jessie Meuller, singing "So Far Away" at Carnegie Hall. Taking us full circle, the musical ends on a high note with King, once again at Carnegie Hall, singing "Beautiful," the show's title.
In between the Carnegie bookends, we witness King's early Brooklyn beginnings, comedic exchanges with her mother (the delightful Liz Larsen), her struggle to have her songs recorded, her first big break given to her by record producer Don Kirshner (Jeb Brown), whose masterful maneuverings hold the play together, and her close-but-competitive friendship with fellow hit-making songwriters Cynthia Weil (Anika Larsen) and Barry Mann (Jarrod Spector).
Adding romance, as well as a touch of disappointment and sadness, is King's fairytale marriage and subsequent divorce to songwriting partner Goffin (a very sexy and seductive Jake Epstein), who just couldn't keep his pecker in his pants. Gerry Goffin (a very sexy and seductive Jake Epstein). We also learn about the birth of King's first two children (talked about but never seen) and her eventual move to Los Angeles where she lives today.
Sandwiched into King's truncated history, all smoothly directed by Marc Bruni and choreographer Josh Prince, are some 26 hit songs sung by the four songwriters, as well as an ensemble of actors, each one representing the original individual or group who recorded the song. Along the way, smoothly integrated between scenes, we are serenaded by look-alikes of Neil Sedaka ("Oh Carol"), The Shirelles ("Will You Love Me Tomorrow"), The Drifters ("Up on the Roof"), The Righteous Brothers ("You've Lost That Loving Feeling"), and Little Eva (Ashley Blanchet) of "Locomotion" fame.
The five leads, all cleverly gift-wrapped inside the musical's nubile singing-and-dancing ensemble, carry the play's simple story. Mueller, without any flashy makeup, hairstyle, or clothes – no star attitude here – emphasizes King's humble, down-to-earth attitude. What we see is a kind of Plain Jane – writing songs, tending to her husband, and raising her first two kids as she climbs the ladder of success.
The perky writing team of Weil and Mann, friends and competitors of the Goffins – both accomplished singers – add yet another layer of interest, as we watch their tenuous relationship begin to develop. It is especially fun when they get to sparring, not only among themselves but with record producer Kirshner, whose job it is to decide which singer or group is going to record whose song. The wonderful thing about this page-to-stage is that that audience is treated two renditions of each song sung. The first time around, the songwriters get to sing their own song. The second version, performed in concert style by actors playing the song's original performers is simply thrilling.
At the performance I attended, some audience members swayed in their seats throughout the evening to the rhythms of the music. Others had tears sliding down their face, as memories of their long-lost youth flooded both brain and heart. Many were heard vociferously extolling the musical's virtues as they exited the theater. Not a few were heard to say they just don't write songs like they used to.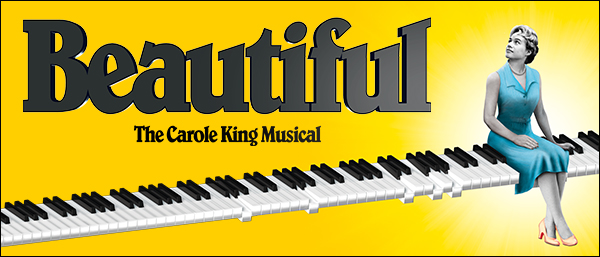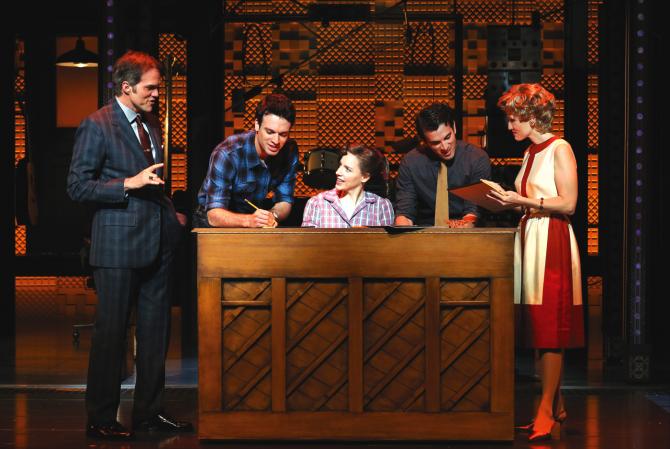 Cast:
Jessie Mueller, Jake Epstein, Anika Larsen, Jarrod Spector, Jeb Brown, Liz Larsen
Technical:
Orchestrations: Steve Sidwell; Set: Derek McLane; Costumes: Alejo Vietti; Lighting: Peter Kaczorowski; Sound: Brian Ronan