The 40th Anniversary of Hair: The American Tribal Love-Rock Musicalwill be celebrated with concert performances at Joe's Pub in the Park, at the Delacorte Theater in Central Park Saturday, Sunday and Monday. Performances are free and begin at 7 P.M.
The year is 1967, and the Vietnam War is at its height. In New York, a hippie tribe rails against the establishment, intolerance and brutality. When one of their own gets drafted, he must make a decision about what values are worth fighting for.
Book and lyrics are by Gerome Ragni and James Rado, with music by Galt MacDermot. The concert production is directed by Diane Paulus with Xanadu's Rob Fisher as music director.
The 30-strong cast is highlighted by Spring Awakening's Tony and Drama Desk-nominee Jonathan Groff as Claude, Tony-nominee Megan Lawrence (Pajama Game, Urinetown) as Mother of the Tribe and Will Swenson, one of the standout stars of Roundabout's 110 in the Shade revival, as Berger.
Tickets are available day of the performance (two per person) at the Delacorte box office from 1 PM and at the Public from 1-3 PM. Enter Central Park at West 81st Street and Central Park West and East 79th Street and Fifth Avenue. The 2007 season of Joe's Pub in the Park is made possible by generous funding from The New York State Music Fund. [END] <P>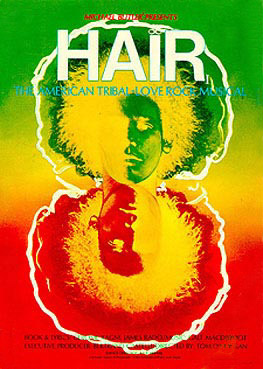 Hair premiered at the Public in October 1967, officially opening its home on Lafayette Street. It has the distinction of being the first off-Broadway musical to transfer to Broadway when it moved to the Biltmore in April 1968. It ran there for 1,750 performances. Among those in the cast were Paul Jabara, Diane Keaton, Lynn Kellog, Melba Moore, Rado [Claude] and Ragni [Berger]. It reopened for a short-lived run in 1977. Among those featured were Cleavant Derricks and (pre-Dreamgirls) Loretta Divine, Annie Golden (currently an understudy inXanadu) and Charlaine Woodard.
"Make love, not war!" was the battle cry in 1968 among the free wheeling, anti-war East Village hippies. Rado and Ragni, two unemployed actors, had the idea to create "something new, something different" for the stage. The result impressed New York Shakespeare Festival impresario Joseph Papp so much that he urged the duo to add music.
They collaborated for two years to create their "pop rock/showtune hybrid." Ragni says it wasn't easy finding a composer. "We rejected several, until finally, in early 1967, we found Galt. What he composed was love at first hearing. It was more than a fulfillment of a dream. It was a clear illustration of a marriage made in heaven."
MacDermot's forays into music had been quite heavenly. He was a church organist before becoming a band pianist. Even though MacDermot was as straight-laced as Rado and Ragni were hip, it became what Ragni had said.
On its Off-Broadway opening, Hair became a major turning point in theater. Hippies advocating peace over war, drugs over soda pop and free love -- not to mention onstage nudity and words never heard even in impolite society -- created an uproar. Old-line drama critics didn't know what to think, but youth bellied up to the box office. The fledging Public Theater had a blockbuster, and Papp was established as a producer to be reckoned with.
Out with the traditional and in with the avant-garde became the rallying cry. There were cries for censorship and, subsequently, many cities banned productions.
Even after becoming a smash, the creative team's dream of being on Broadway wasn't a fait accompli. "We offered it to the established producers," reported Rado, "but it was rejected again and again."
Then producer Michael Butler, a handsome, independent-minded young yachtsman from an aeronautics family, and Papp moved the show to a Theater District disco. When Papp began to doubt Hair's future - or fear for his own because of necessary funding for his theater -- and when Butler's dad turned off the finance spigot, Adela Holzer, who billed herself as a Spanish aristocrat, came to his rescue with additional money.
Holzer became that rare commodity: a major female producer, later bringing Treemonishaand The Ritz to Broadway. She was an early supporter of Terrence McNally and the directorial aspirations of Dustin Hoffman (who soon got so fed up with her interference, he locked her out of the theater). Holzer was also lead producer of Rado/Ragni/MacDermot's second Broadway outing, the disastrous Dude.
In 1979, she was convicted of grand larceny and landed in prison. In 2003, she was convicted of bilking immigrants of money on the promise of securing their Green Card. She's still serving time and will be unable to see the production she helped salvage and guide into the theatrical history books.
Bulter, who was, ironically, pro the Vietnam conflict and who ran for a Democratic U.S. Senate seat in Illinois, was the godson of film legend Tyrone Power; a devoted friend Greta Garbo, the Windsors and John and Jacqueline Kennedy.
The most avant-garde of avant-garde directors, Tom O'Horgan was brought in to revise the show, and Broadway was never the same. In May 1971, he enjoyed controversy all over again with his production of Lenny, followed in October by his Jesus Christ Superstar, which also had its fair share of protestors -- this time, religious.
If the creators wanted something different, they got it. More than one cast member said that the majority of the cast was "high on acid." To encourage nudity, cast members were offered an additional $7.50 each time they exposed themselves.
The perception of what a Broadway show "should be" is vastly different today. Back then, even with its great popularity, Hair was only nominated for two Tony Awards: Best Musical and Best Director. What amazed most traditional theater power-brokers was that it was nominated at all. Snub or no snub, there was no shortage of audiences. They went because they believed or to be shocked. Hair became a cause celebre.
Some of the show's rock score grew to accepted by the mainstream: more accessible songs, such as "Aquarius" and "Let the Sunshine In," which made it to the pop charts. The sun shined in and the Age of Aquarius dawned. Peace, love, freedom were in vogue, at least onstage.
[END}
Key Subjects:
Hair, Joseph Papp, Gerome Ragni, James Rado Galt MacDermot, Diane Paulus, Shakespeare in the Park, Adele Holzer
Subtitle:
40th Anniversary of the Tribal Love-Rock Musical Looms