The original Broadway cast CD of Grammy-winning rock icon Cyndi Lauper and four-time Tony Harvey Fierstein's richly diverse Kinky Boots,nominated for 13 Tonys, including Best Musical, Score, and Book, is now available (Masterworks Broadway).
Tony and Drama Desk nominee Stark Sands and Drama Desk winner and Tony nominee Billy Porter lead a cast of 32, which includes Tony and Drama Desk nominee Annaleigh Ashford as Lauren, Celina Carvajal as Nicola, Daniel Stewart Sherman as Don, and Marcus Neville as George. Director/choreographer Jerry Mitchell and the designer of all those outrageous high-heeled kinkies Gregg Barnes have also been Tony-nominated.
Kinky Boots opened at the Hirschfeld on April 4, 2013 to rapturous reviews. ABC-TV hailed the score as "the best in years," which, according to The New York Times "performs like a pop star on ecstasy." It was chosen for Entertainment Weekly's "Must List."
The show, based on a true story and the film written by Geoff Deane and Tim Firth, tells how Charlie Price (Sands) turns the family shoe factory, which is on the verge of bankruptcy, into a thriving enterprise by manufacturing sturdy stilettos, inspired by colorful drag diva Lola (Porter). The pair, who couldn't be more different, conquer obstacles and misconceptions and find support in the most unlikely places. In addition, Charlie finds love (Ashford), which had been staring him in the face the whole time.
The 15 tracks include "Take What You Got," the show-stopping and incredibly-choreographed Act One finale "Everybody Say Yeah," "What a Woman Wants," "Hold Me in Your Heart," and "Raise You Up." The album's producers include Lauper and the show's music supervisor and arranger Stephen Oremus (The Book of Mormon, Wicked). Selections can be previewed at http://popwatch.ew.com/2013/05/20/kinky-boots-original-cast-recording/.
[END]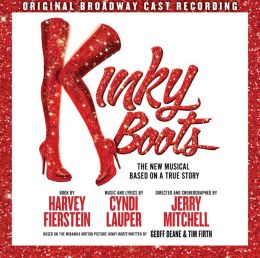 Key Subjects:
Kinky Boots, Cyndi Lauper, Harvey Fierstein