As you might expect, the much-honored and celebrated Patti LuPone's concert at the new and quite trendy 54 Below (located, as you might expect, downstairs from the famous former center of New York nightlife, Studio 54) has been recorded. 54 Below is an intimate space that, with its emphasis on red, resembles a very high-end Barbary Coast bordello. From her entrance and throughout her show, LuPone received thunderous applause.
"Far Away Places" (Broadway Records; SRP, $12.88) captures the show with 16 tracks of tunes and reminiscences, met with great enthusiasm by the audience.
The concert was written and directed by Tony and Drama Desk winner Scott Wittman (Hairspray). Joseph Thalken music directed on piano with four musicians who manage to sound a lot bigger and louder than their numbers. Six-time Grammy Nominee and producer of numerous original cast albums Robert Sher produced.
LuPone steers clear of revisiting her stage roles and signature songs, with the exception of Sondheim's "By the Sea" from Sweeney Todd. Often LuPone is wild and loose, which can be fun when appearing live, but this can also take away from well-selected songs.
Highlights are Weill/Brecht's "Bilbao Song," with fun special lyrics, a quite bitter take on "Pirate Jenny," and "Ah, the Sea Is Blue (Matrosen-Tango)"; Cole Porter's "Come to the Supermarket in Old Peking"; a rambunctious "I Wanna Be Around," co-written by Johnny Mercer; a poignant "September Song" by Weill and Maxwell Anderson; and "Hymn to Love" by Edith Piaf and Marguerite Monnot.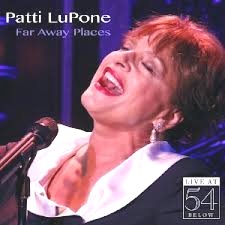 Key Subjects:
Patti LuPone, 54 Below, Far Away Places