Images: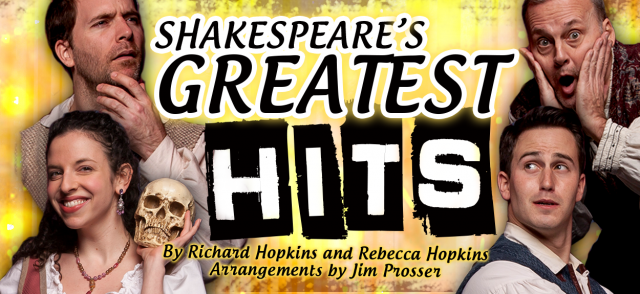 Theater:
Florida Studio Theater - Court Cabaret
Theater Address:
First Street & Cocoanut Avenue
Review:
A projection for a long run is a good thing, because in its first week, an already revised Shakespeare's Greatest Hits does not seem to be in final form yet. Its title may be misleading: There are only three lyrics written by William Shakespeare. And they are superior to enough of the others in later music presented here to make one wish Shakespearean plays had been culled for more.
The revue begins with all four performers nicely commanding "Brush Up Your Shakespeare" from Cole Porter's Kiss Me Kate. Its characters sing a musical version of Taming of the Shrew in a musical play within a musical play. But other songs from that show are not here taken from the Shakespearean part and don't actually brush us up on the Shakespearean influence. It's a fault that sometimes reoccurs.
In the main, the songs are about Shakespeare or facets of his plays. Hamlet is a major influence on Act I. It's the title as well as subject of a Frank Loesser song and the inspiration for "Moody Dane" by John Princhett & Herbert Farjeon, and "Rosencrantz and Guildenstern Boogie" and "Get Thee to a Nunnery" by Clifford Jones. William Selby and Dane Becker work well together on the male duets.
Samantha Joy Pearlman comes on the scene as Ophelia, object of the "Nunnery" song and routine, but it isn't either very tragic or funny. Galen Murphy-Hoffman is at something of a loss as her commander in this scene.
What follows from the cast in parts and altogether are songs about life, taken from The Lion King and having only a tenuous connection (the "to be or not to be" idea) with Shakespeare.
The start of Act II is grounded by a Bach fugue, the three actual Shakespearean songs, and numbers taken from riffs on his plays: "Othello Rap," "Desdemona," and "What a Piece of Work Is Man." The final part of the revue emphasizes Romeo and Juliet's inspirations on West Side Story as well as on Mark Knopfler's song "Romeo and Juliet." The Leonard Bernstein music affords Becker and Pearlman the chance to shine as a romantic duo.
The cast seems happy to get to the few lesser known songs at the end. Wayne and Karey Kirkpatrick's "God I Love Shakespeare" makes for a finale in the joyful spirit of the revue's opening. It is too bad that so many of the audience did not stay for the better executed numbers after intermission.
Jim Prosser on piano exhibits his usual best throughout. Director Richard Hopkins deserves credit for his attempt to bring the revue up to date, but it needs more work. He need not worry about the lighting and sound, but the choreography could use some punch. The steampunk costuming does not interfere with the show's concept.
Cast:
Dane Becker, Galen Murphy-Hoffman, Samantha Joy Pearlman, William Selby; Jim Prosser (piano)
Technical:
Costumes: Susan Angermann; Lights: Thom Beaulieu; Sound & Projections: Thomas Korp
Miscellaneous:
This is a revived and revised version of a cabaret revue from FST's 1998-99 season.