Images: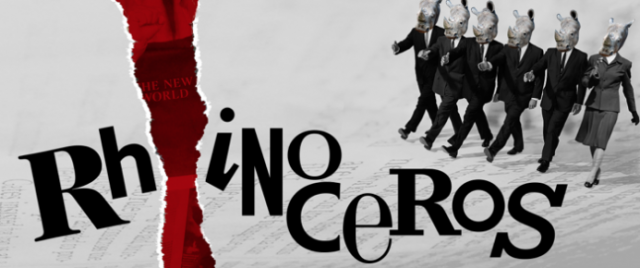 Theater:
Florida State University Center for the Performing Arts - Mertz Theater
Review:
I've long wanted to see Ionesco's Rhinoceros produced in English. After attending Asolo Rep's production directed by Frank Galati, I'm still waiting. I should have been warned. Galati had said in a local interview that he, with permission of Ionesco's estate, was turning three acts into two. That's changed more than one French play since the '50s.
Galati also "tried to prune the text so that it would have efficiency and momentum, not...returning and reflecting and repeating, but moving on and on." Sometimes a motif gets lost in the process. Galati's version, instead of presenting the text with its unspecified time, includes specific contemporary references (e.g., to "fake news"). Costumes suggest the mid-20th century.
An important Logician character has been cut. Can't we understand what a syllogism is? Some classical farcical routines are absent, perhaps "to make the play land with a contemporary audience." Does that mean today we either don't know or needn't know much history, whether general or cultural (specifically theatrical)?
The story is simple. As people in a small French town are turning into rhinoceroses, Berenger, an everyman, along with his opposite personage but best friend Gene, fellow workers, and other townspeople get caught up in the transformation. Only Berenger faces it, desperately holding on to his human nature and values.
David Breitbarth admirably brings a proper existential perspective to his portrayal of Berenger, never making his viewpoint heroic but rather natural. Matt DeCaro, in the showiest role, makes his on-stage change from a duty-spouting dandy into a rhinoceros properly rough. He resists being a Zero Mostel comic, appropriate since Ionesco wanted Gene's transformation to be horrendous.
In a curtain-raising mise en scene, Matthew MaGee appears as the town's Cafe Owner, a flirting female singing Edith Piaf's famous lyrical lines about having no regrets. Why? Is it because he turns out to be in drag?
McGee appears more importantly as Mr. Papillon. Though some of his opinions on religion are omitted, he's the gruff enough demanding Head of a Legal Publications Office where Berenger works. Is this casting supposed to make a connection between the gay Cafe Owner and the "butterfly" boss?
Matt Mueller's Dudard, Assistant Office Head, fights consistently with Brandon Dahlquist's effective Office Clerk Botard. He's a former teacher of the caustic pedant type that Ionesco deplored. Mueller's Dudard constantly tries to get on with business while being bothered by Dahlquist's Botard's remarks. Most of these on racism and scientific method are inappropriate and absurd.
Laura Rook, destined to be sought after by Berenger to be his mate, scores with her bringing into the Office her visual testimony about a rhinoceros. She seems to value being well thought of at the firm and dislikes Botard's treatment of what she says.
Peggy Roeder makes the most of a cameo appearance as Mrs. Boeuf (Fatty) bearing an absentee excuse for her husband who works there. As a rhino, he begins calling for her from the street. How she responds is further evidence of the state of things. The rest of the cast fill appropriately various roles as townspeople. Here they are pretty much indistinguishable even when they become animal firemen.
The best technical work may be attributed to sound designer Joe Cerqua, who makes it seem that we are hearing herds of animals individually and together, far and near. Chris Ostrum's lighting cleverly sets times for outdoor and indoor scenes and even blends with symbolical dark backgrounds.
Robert Perdziola can be proud of his drop sets, reminiscent of Monet painted scenes or classical 19th and 20th century farce bedroom settings. Toward the end, however, drops disappear and a huge rhinoceros statue dominates the background. It is artistically made but scenically forms an uneven background for activity in front of it. It remains static and unaccompanied by any other such figures for an overall effect that contradicts the text.
The redeeming thing about Gallati's direction is that it has not destroyed Ionesco's basic warning. To me, that's critically needed today.
Cast:
David Breitbarth, Matt DeCaro, Brandon Dahlquist, Matt Mueller, Matthew McGee, Laura Rook, Peggy Roeder, Amy Helms, Andrew Bosworth, Dustin Babin, Christopher Carlson, Anthony J. Hamilton, Nolan Fitzgerald Hennelly, Amber Lageman
Technical:
Set & Costumes: Robert Perdziola; Original Music & Sound: Joe Cerqua; Lights: Chris Ostrum; Hair & Make-Up: Michelle Hart; Dramaturg: Paul Adolphsen; Production Stage Mgr: Kelly A. Borgia