Images: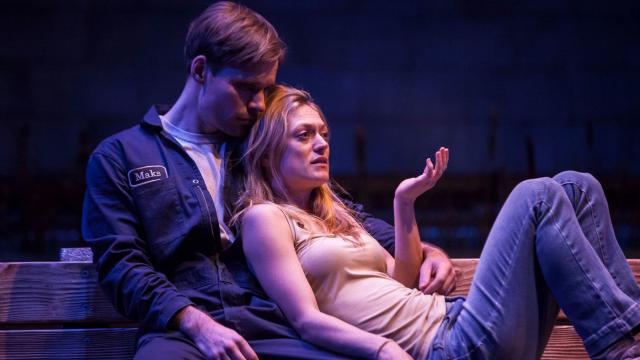 Review:
The drama sizzles and crackles in Ironbound, Martyna Majok's powerful play now on tap at the Geffen, directed by Tyna Rafaeli. Majok, daughter of a Polish-born working-class woman, grew up in an industrial corner of New Jersey whose factories and mills once supported large numbers of immigrants. Now, in this post-industrial age, the factories and mills have been abandoned— the people who worked in them as well. Against that bleak, grim backdrop—symbolized by Tim Mackabee's looming factory wall—Ironbound tells its pungent, black-humored tale.
The specific setting is a bus stop in Elizabeth, NJ, where Darja (the terrific Marin Ireland) fights for survival in a variety of ways. Darja is a Polish-American, blue-collar waif with a spine of steel. Married twice with an unseen teenaged junkie son whose addicted behavior has made her life a hell, Darja once had a job in a paper factory but now cleans houses for a living. At the bottom of the social ladder, this tough, scrappy gal still yearns for a piece of the American Dream. A car and a couple of thousand bucks would do the trick, but where are they going to come from? Tommy (Christian Camargo), the postal worker she lives with, has a few bucks to his name but spends most of that dough on his various married girlfriends. Yet, as excitable and erratic as this bigger-than-life character is, he still swears that he loves Darja and would go nuts if she left him.
Ironbound goes back and forth in time (from 1992 to 2014), a non-linear device that allows us to meet the other two men in Darja's beleaguered life. The first is Maks (Josiah Bania), her Polish husband. Like her, he speaks with an accent and works shit jobs for a living, but has a considerably different dream from hers. Where she wants to stay rooted and focus on being a mother to their troubled son, he wants to take off and head to Chicago, home of the blues, and play his harmonica there.
The other man is Vic (Marcel Spears), a male hustler who spots her when she is homeless and about to bed down on the bus-stop bench. Vic, who is eighteen and African-American, may be a street guy, but he's also got a warm, compassionate heart and tries to do what he can to help Darja.
Majok writes the scenes between Darja and the three men with a pungency and ferocity that are stunning to behold. She also brings to life Darja's struggle for survival in an equally vivid and vital way. Above all, she makes us care deeply about Darja and the hard choices she faces in a world she never made.
Brilliantly written, acted, and directed, Ironbound is the best play presently running in L.A.
Cast:
Josiah Bania, Christian Camargo, Marin Ireland, Marcel Spears
Technical:
Set: Tim Mackabee; Costumes: Elizabeth Caitlin Ward; Lighting: Lap Chi Chu; Sound: Leon Rothenberg; Production Stage Manager: Elizabeth A. Brohn