Images: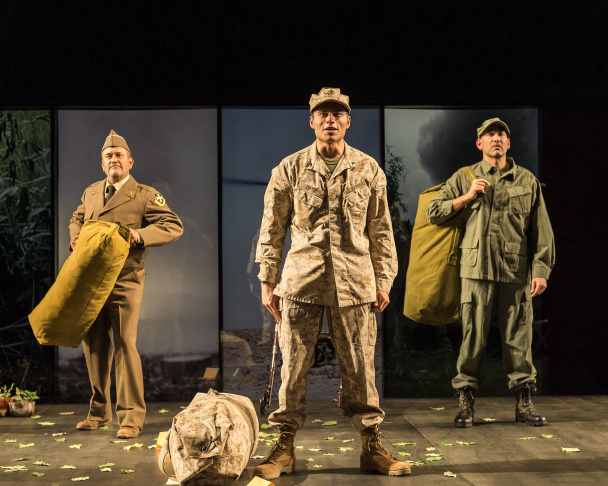 Theater Address:
9820 Washington Boulevard
Review:
Center Theater Group has mounted Quiara Alegria Hudes's 2007 play Elliot, A Soldier's Fugue, at the Kirk Douglas as a way of introducing L.A. to her trilogy of related plays, one of which, Water by the Spoonful," won the 2012 Pulitzer Prize. (Spoonful will open in a week's time at Mark Taper Forum, followed by The Happiest Song Plays Last at Los Angeles Theater Center).
Hudes, who also co-wrote the musical In the Heights, is obviously an important playwright, one who will be much heard from in years to come.>Elliot itself, the long one-act play looks at three generations of military veterans in a Puerto Rican (but Philadelphia-based) family. Elliott (Peter Mendoza), just out of high school in 2011, is on his way to Iraq. Commenting on his departure are Pop (Jason Manuel Olazabal), a Vietnam vet; Grandpop (Ruben Garfias), a Korean-war vet; and Ginny (Caro Zeller), who served in 'Nam as an army nurse. All three recall their varied battlefield experiences by delivering spoken-word arias that weave together past and present, memory and history. The total effect is that of a tone poem—or, as Hudes puts it, a fugue.

Hudes, who studied music at Yale before she turned to playwriting, also uses the sound of a flute (played by Grandpop in Korea) throughout, making for a tender, haunting theme in the midst of the bleakness of war. That Elliot carries the flute with him to Iraq is Hudes' deft way of linking the generations and sounding a note of hope.

Although Elliot takes a hard, honest look at war, it can't be called an anti-war play, if only because much of its focus is on Ginny, who, after working in a Vietnam field hospital, has now turned away from all thoughts of violence and death. She runs a community garden in Philadelphia and spends her time growing and nurturing life.

War stays inside Pop and Grandpop most of the time as well; they allude to it only briefly and resentfully. These hints of anger and betrayal are the residue of the knowledge that their country sent them off to fight in meaningless imperial battles—an event that's being repeated by Elliot for the fourth time in the family's history.

Although I liked watching Elliot, I found myself curiously unmoved by it; my response was respectful but not visceral. It's hard to say why. Perhaps the presentational aspect of the production is at fault (though I did admire the acting and directing). Perhaps it's in the writing, which deals with the consequences of war in oft-familiar ways. Bottom line is, I wasn't blown away by this soldier's story.
Cast:
Caro Zeller, Jason Manuel Olazabal, Ruben Garfias, Peter Mendoza
Technical:
Set: Sibyl Wickersheimer; Costumes: Raquel Barreto; Lighting: Geoff Korf; Sound: John Nobori