Images: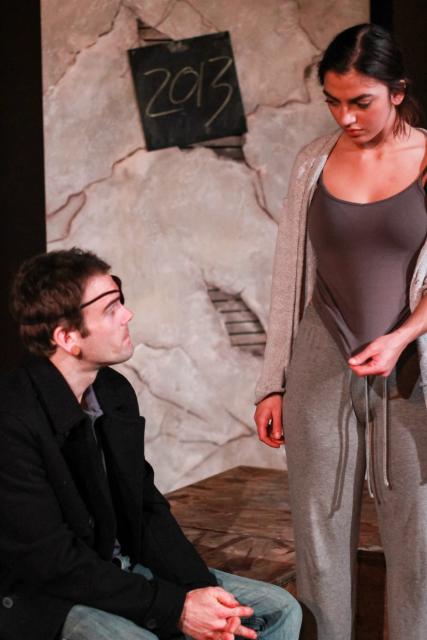 Theater:
Underground Collaborative
Review:
Milwaukee's newest theater company, The Constructivists, chose to open its doors with a play by one of the nation's newer playwrights, Rajiv Joseph. Although better-known for his Bengal Tiger at the Bagdad Zoo, which played on Broadway, Joseph also wrote Gruesome Playground Injuries. It is this play that The Constructivists selected to perform in the intimate, black box theater called the Underground Collective. The drama, which had its Off-Broadway debut in 2011, seems fitting for Milwaukee's new theater company that is determined to break the mold of mainstream theater.
As if the title isn't off-putting enough (especially for parents with young children in school), Gruesome Playground Injuries takes the viewer on a journey through the pain – both physical and mental – of two soulmates. They don't recognize this when they first meet each other in the school's infirmary, but they keep seeking each other out throughout their lives.
The two-hander features Kayleen (sensitively played by Solana Ramirez-Garcia) and Doug (the sometimes-maniacal Rob Schriner). Director Jaimelyn Gray wisely chooses to have the two characters keep an eye on each other, even during the silent scene changes, which are performed in full view of the audience.
To represent various locations, two coffin-sized plywood boxes are moved around (by the cast) for each scene. Sometimes they are placed one on top of the other to form a bed; at other times, they are a concrete stoop or even an actual crate in the back of a school dance. The set is completed by four, marble-painted backdrops that are separated by gaps. They reflect the coldness and isolation that the characters feel throughout their entire lives.
Although the play travels back and forth in time, it is mostly easy to follow. A brief series of fragments allows the audience constructs a history for each character. One of the most fascinating things to watch here is the elaborate costume changes, performed onstage by each character. With surgeon-like precision, they quickly disrobe and put on an entire new set of clothes that are folded inside the plywood boxes.
Both Schriner and Ramirez-Garcia are convincing in their roles as made-for-each-other masochists. Doug is constantly doing daredevil tricks long after he is supposed to grow past such foolishness. So we see him with the aftermath, which includes: a broken tooth, a gouged-out eye and, eventually, a limp that requires a cane. Ramirez-Garcia is more private but equally unconcerned about injuries that result from cutting herself and – in one climactic scene she recounts for Doug – when she took a kitchen knife and attempted to remove her stomach.
Kayleen, who rails against her unkind, single father, is always quick to point out to Doug how good he has it within a larger family. Still, that these two must cope alone with their injuries (no nurses, doctors, teachers or parents ever appear) augments their feelings of isolation.
Although Doug would like the relationship to be more than platonic (it isn't), Kayleen taunts him with stories of her sexual adventures. In the early scenes, she swears a blue streak every time she sees Doug (you're a crack-head dumbass with shit for brains,)" she spews at one point. But she seems secretly happy to know he wants her and wants to protect her.
In an important scene where she visits Doug in the hospital where he is lying in a coma, her true feelings for him come out. Ramirez-Gomez quietly winds down her character enough to make this transition seem natural.
However, Kayleen shows her own signs of immaturity, too. She quickly recants when Doug asks her whether she ever came to the hospital. Doug (Schriner) is the one who mostly seeks out Kathleen, until the play's final scene.
The playwright's message may be that "love hurts," but this long one-act also reminds the audience to reach out to the disenfranchised souls who are wandering around the world. The Constructivists are to be commended for tackling such difficult material their first time at bat.
Cast:
Solana Ramirez-Garcia (Kayleen), Rob Schreiner (Doug)
Technical:
Set & Costumes: Sarah Harris; Lighting: Aarom Suggs; Sound: Robin Hornbostel.