Images: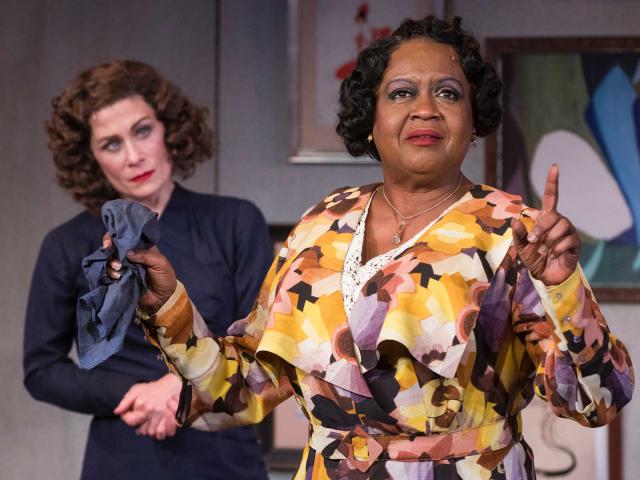 Company/Producers:
Milwaukee Repertory Theater
Review:
Black Pearl Sings! is based on a remarkable true story. Playwright Frank Higgins was inspired by the real-life relationship between legendary singer/guitarist Huddie William Ledbetter (better known as Lead Belly) and Harvard folk musicologist John Lomax, who helped petition for Ledbetter's release from prison. However, in the playwright's version, both the musicologist and singer are female. Higgins attempts to broaden the focus to encompass women's issues in the early 1930s.
The current production is being staged at the Milwaukee Repertory Theater's intimate Stackner Cabaret. Black Pearl has been bouncing around the country since at least 2012, when it was produced by Portland Center Stage in Portland, Ore., and the Northlight Theater near Chicago (Skokie, Ill). It had a 2016 production in Washington, D.C., and last year, the show was part of the San Diego Repertory season.
As the show opens, enter Susannah Mullaly (played by American Players Theater regular Colleen Madden). She's a single, middle-aged researcher and a song collector for the Library of Congress. She thinks, correctly, that women in prison might be more likely to focus on songs from their past than the current Top 40 tunes. She carries with her a bulky recording machine and a heavy pile of blank records.
So, she's sitting in the warden's office in a Texas prison, interviewing inmates about their musical backgrounds. She comes across one woman whose steely spirit and no-nonsense demeanor surprises and interests her.
That would be Pearl (Lynette Dupree), a black woman who wastes no time acknowledging the racial, financial and social differences between the two. When Dupree starts to sing, it seems as if everyone in the audience catches their breath simultaneously.
As an actor, Dupree has a handful of film, Broadway and TV credits. In this environment, she can control the stage with a raised eyebrow or a softly spoken, "um-hum." But it's Dupree's amazing voice that propels the production toward its conclusion.
Madden impresses as a woman with her own opinions. Her character's passion for her work is evident. "When a person dies, a library is lost," Susannah says. She presses Pearl to recall the earliest songs she was taught as a child, especially songs her parents may have sung as field slaves.
When Madden (as Susannah) is asked by Dupree (Pearl) why she isn't married with children, Madden bristles slightly and shares her career dreams. She wants a professorship – preferably at Harvard, no less. That institution had no female faculty in 1933, which would make Susannah the first. What seems to impress Pearl the most is the fact that Susannah is the first white woman she has known to drive her own car. One of the show's most climactic scenes results as Dupree tries to stage a prison break-out.
In this social climate, it is preposterous to believe that Suzannah can spring Pearl from prison in a few days. After all, Pearl is incarcerated for killing a man. "I wouldn't have killed no man unless he needed it," says Pearl, unrepented. One guesses that this man's interaction with Pearl's then-12-year-old daughter may have been the cause.
Although the action begins in a warden's office, it continues in an appropriately staged Greenwich Village apartment, owned by a wealthy "Bohemian" friend of Susannah's. Here, Pearl is booked for singing engagements. She is warmly received by members of white women's clubs that are interested in folklore. Pearl takes to the stage like a fish to water, causing Susannah some awkward moments.
Through it all, Pearl's voice rings with the sound of authenticity. Most of the songs are sung a cappella, and Dupree's rich, expressive voice carries one back to days of life on the plantation. Madden's voice, though much lighter and softer, also conquers a few tunes.
The script generates a good deal of humor in the back-and-forth between Susannah and Pearl. These fine actors are noble opponents who eventually reach a friendship of sorts.
Black Pearl Sings! may not have as much music as the cabaret's typical music revue, but its strong storyline is delivered with polish and professionalism by a pair of exceptional actors.
Cast:
Lynette Dupree (Alberta "Pearl" Johnson); Colleen Madden (Susannah Mullally).
Technical:
Set: Courtney O'Neill; Costumes: Lauren T. Roark; Lighting: Aimee Hanyzewski; Sound: Erin Paige.