Images: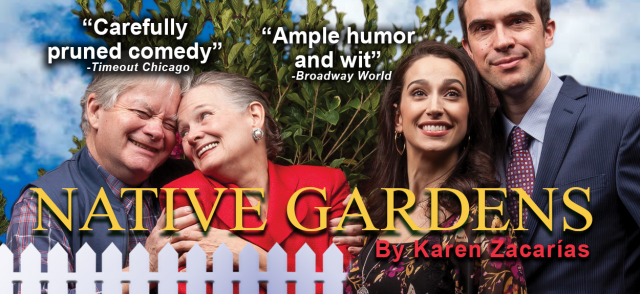 Theater:
Florida Studio Theater - Gompertz
Theater Address:
First Street & Cocoanut Avenue
Review:
On one side of the stage is the Butleys' bright D.C. patio furnished for dining, looking in on a tastefully appointed home, and surrounded by a small white cement arc walling in a feast of colorful flowers. On the other side, a mess of a closed off threshold and dead foliage in beds of throw-away ornaments clutter under an imposing oak tree with overhanging brown leaves. This set reveals the action: a clash.
The Butleys welcome new neighbors Pablo Del Valle, an immigrant Chilean of a powerful law firm, and pregnant wife Tania for wine. The newcomers are pursuing their American dream of having their own property, careers (she's getting a doctorate), and children living in harmony with nature and community.
Frank Butley looks forward to his carefully manicured and sprayed garden soon getting him a prize he's long coveted. Tania reveals her antipathy to non-native plants and her love for the oak tree whose branches barge into and loom over the Butleys' terrace.
When the Del Valles discover their property line extends through the edge of the next door property, a backyard battle begins. It pits Frank's last chance at being judged a winning gardener against Pablo's fear of losing his new firm's approval of the Del Valles' way of living, to be demonstrated at an approaching garden BBQ.
A fence full of ivy is a particularly funny frustration. Though the couples' clash is as comically tasty as a dispute can be, it brings out their different attitudes, politics, ambitions, ways of judging "others" and what one might consider the categories of people to whom they belong.
Director Kate Alexander sees to it that the author's characters reveal their innermost selves in due pace and in their individual ways. Carolyn Popp subtlely brings out Virginia Butley's feelings of condescension toward the new "foreign" neighbors, though Tania is a born and bred New Mexican.
John Thomas Waite as Frank considers himself a prime community member, certainly a non-racist who even "thought of voting for Obama." He guesses his middle aged son may be hiding a secret from Virginia.
Pablo really likes his neighbors' home and the way they enjoy it. He hasn't shaken suspicions that here could turn out to be like Chile, where he was a suspect for living well on his family's good land. It was confiscated. Though he proclaims it's "not good to hurt old people," a border dispute thrives as he and Tania decide they are being cheated.
Each neighbor takes the matter into his or her own (and a few nonchalant workmen's) hands. Their opposite moves make for many laughs. Even Alicia Taylor Tomasko's serious, somewhat preachy Tania contributes to a very appropriate ending for comedy.
Cast:
Carolyn Popp, Alex Teicheira, Alicia Taylor Tomasko, John Thomas Waite
Technical:
Set: Isabel & Moriah Curley-Clay; Costumes: K. April Soroko; Lights: Thoma Beaulieu; Sound: Thom Korp; Stage Mgr: Roy Johns