Images: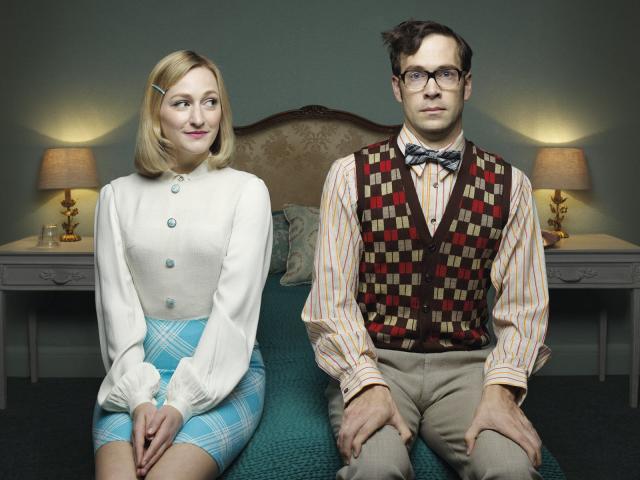 Company/Producers:
Shakespeare's Globe & Radio Mouse Entertainment
Review:
None could be sweeter of all the musicals I've seen in the last few decades than Romantics Anonymous or the chocolate I got to eat as the show began. Heroine Angelique was making her spectacular batch of candy. Too bad hero Jean-Rene's candy from his failing Chocolate Factory isn't selling like special limited chocolates from Mercier's provincial shop.
What if Angelique and Jean-Rene could get together? Well, the delightful musical that debuted in the intimate San Wanamaker Playhouse makes it happen...but not right away. First, Dominic Marsh's wonderfully woebegone Jean-Rene has to take taped self-help lessons to overcome his social interaction anxieties.
At the same time, Carly Bawden's charming, creative but socially suffering Angelique can't bring her talents out in the open or even support herself on the seasonal candy she hesitatingly brings Mercier to sell. She does try to learn to alleviate her anxieties by joining a group of fellow sufferers in group therapy sessions.
Sometimes Angelique gets too involved in her therapy friends' problems to the postponement of her own. Jean-Rene, who feels like a traitor to his business and employees because he's bought and eaten Mercier's confections, isn't helped by his father's ghost (commanding Philip Cox). He keeps appearing to insist that traditional recipes and products are best.
Many delightful encounters, especially between Angelique and Jean-Rene at a chocolate judging contest in Lyon and afterward, take place. But it takes longer (maybe a trifle too long, but only a trifle) to get the lovers together for a permanent change in their lives and means of securing their livelihood. At each stage, music and lyrics by two Americans seem as necessary as the wonderfully doubling and tripling supporting cast members.
Clever combinations that make up Romantics Anonymous constitute cabaret musical comedy at its finest. I hope its producers and creators bring it across the Atlantic in its London form, like a tasty and tasteful petit four among big tiered cakes—and with the kind of careful director and superb actors I saw on a bank of the Thames.
Cast:
Marc Antolin, Carly Bawden, Philip Cox, Joe Evans, Natasha Jayetileke, Dominic Marsh, Joanna Riding, Lauren Samuels, Gareth Snook; Musicians: Jim Henson, Sophie Creaner, Mike Porter, Llinois Richards
Technical:
Set: Lez Brotherston; Costumes: Simon Nathan; Lights: Simon Hale; Sound: Malcolm Rippeth; Orchestrator: Simon Hale; Production Mgr.: Wills [sic]; Stage Mgr.: Lindsey Knight; Wigs, Hair & Make-up: Pam Humpage; Props: Katy Brooks; Bungees: Alex Harvey