Images: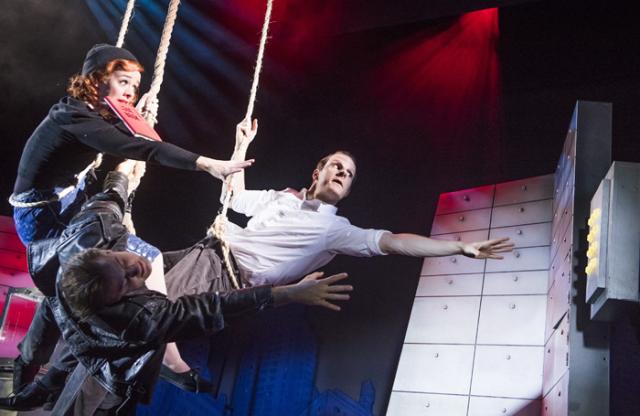 Website:
thecomedyaboutabankrobbery.com
Review:
Many audience members and London critics liked this both-literally-and-figuratively-slapstick farce better than I did. The premise and action of The Comedy About a Bank Robbery are funny, true. But if you know anything about the real America shown in cops-and-robbers movies, this take-off on the same is not only silly but jejune. I had a hard time getting past the Minneapolis manager of the bank-to-be-hit who speaks with a Deep Southern accent.
The story, set in 1958, has a prisoner as if in a much earlier-type jail consorting with crooked guards and police. They're going to steal an ultra-expensive diamond belonging to a Hungarian prince. (He doesn't show up for ages, BTW.) A moll and the bank manager's daughter help in the prison escape and in the heist.
Everything about the bank is hokey. It has a Mother Monaghan, a local "homemaker extraordinaire" who seems to work there. She wears an obvious wig and has a son who gets ignorantly involved. Ignorance plays many important parts in this farce. It spreads to a bank employee who, though too old for and unlikeable to the heroine, gets many a bop in the head but never wakes up to what's really going on.
The amount of physical comedy is staggering. It requires great dexterity from the actors as well as sustained comic-stupidity. They're all prove good mimes when necessary and even have good enough voices to put over the few doo-wop songs from the era.
If there's a hero, it's Mark Hammersley's good looking, straight man Warren Slax who has to dodge one romance and try to secure another. It's hard to do when he keeps getting caught in a Murphy bed.
The most daunting scene is one poised high above the stage on an angle that has the manager and a disconcerted thief hanging upside down through circular cutouts in the screen where they cling. But there are many other daring hang-ups throughout, especially one in a space over a bed.
I would have thought audiences today would be somewhat too slick for a show like this, but most were not. Laughs came heartily. I did notice and talked to a few attendees, regular theater-goers who seemed to share my opinions. But I'm glad, anyway, that so many people enjoyed theater by this Mischief Theatre group, for they may come back to help keep more theater alive.
Cast:
Gareth Tempest, Laurence Pears, Chris Leask, Tania Mathurin, Sean Kearns, Mark Hammersley, Sam Fogell, Holly Sumpton, Jeremy Lloyd
Technical:
Set: David Farley; Costumes: Roberto Surace; Lights: David Howe; Sound: Jon Fiber for JollyGoodTunes; Wigs: Leila Simon; Tech Designer: Alan Bartlett; Production Mgr: Digby Robinson