Images: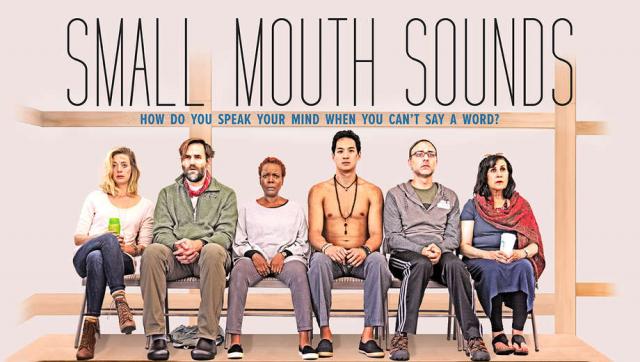 Review:
Much of Small Mouth Sounds resembles a silent movie with its six characters communicating without dialogue by making exaggerated gestures and faces for nearly two hours (with no title cards to aid comprehension). The dumb show in Bess Wohl's new play, a recent off-Broadway hit, takes place in a wellness center whose unseen leader preaches silence as a therapeutic cure for psychological stress and pain. The leader, voiced by Orville Mendoza, is a kind of New Age guru, uttering advice and instruction in a cloyingly sweet tone meant to soothe and inspire. Every once in a while he tells a bad joke or tootles away on a flute—when he isn't warning his followers that if they choose to walk out on him, no refunds will be given.
Wohl's satiric portrait of this Big Brother is an affectionate one, as is her treatment of the six people who have come to him in a quest for peace and enlightenment. Though the center's rules forbid speech, at times they do address each other or, as in the case of Ned (Ben Beckley), the audience directly. They also secretly check their cell-phones , munch on snacks, and even have sex down by the lake. Humanity, Wohl implies, is just too anarchic and gregarious to be reined in by a conformist ideology. The need to connect trumps introspection.
There is much fun in the way the students behave as they go through a week in the center (slickly realized by Laura Jellinek's sliding set and Andrew Schneider's video design). Body language replaces speech in a fluid way choreographed by Chavkin and beautifully realized by the gifted cast. Whether sitting in a room while their master lectures them or trying to sleep out in the open at night, they have to use body language or crude hand gestures to communicate with each other—and with the audience, of course. Character must be revealed this way and for the most part the actors manage to do it, except, in the performance I saw, when it came to Joan and Judy (Socorro Santiago, Cherene Snow), a lesbian couple. It is clear that one of them is ill, but why they have an angry falling out is a mystery to me. What compounded the problem is that when they did speak, I couldn't hear them well. Same went for several other key speeches, all of which got lost in the acoustically-challenged Broad Stage. Chavkin should have reminded the actors that projection is a big part of their arsenal.
Small Mouth Sounds's near-two-hour length is another handicap. The gimmicky nature of the play gets annoying and self-indulgent over the long haul, which is a shame because there is much to like about Wohl's new work, especially its humor and warm-heartedness. Her main theme—how hard it is for people to change—is skillfully dramatized as well.
Cast:
Connor Barrett, Ben Beckley, Edward Chin-Lyn, Orville Mendoza, Brenna Palughi, Socorro Santiago, Cherene Snow
Technical:
Set: Laura Jellinek; Costumes: Tilly Grimes; Lighting: Mike Inwood; Props: Noah Mease; Sound: Stowe Nelson; Video: Andrew Schneider