Subtitle:
Murder and Madness at Greystone
Images: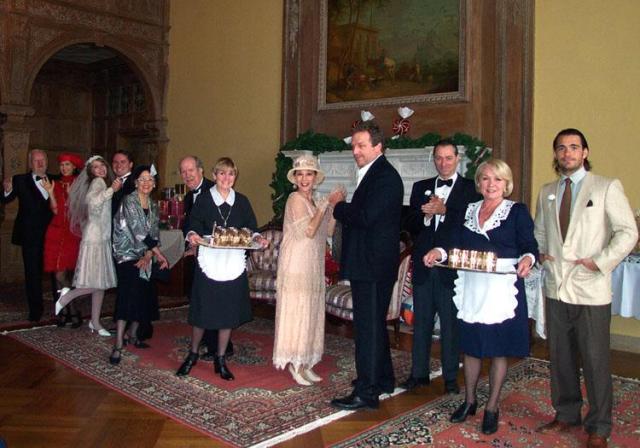 Review:
It has taken me sixteen years to catch up with The Manor, the fictionalized story of the rise and fall of the Doheny family. Edward Doheny, patriarch of the family, made a fortune in the oil business during the 1920s, much of which he spent on Greystone Mansion, a mammoth hilltop house in then-rural Beverly Hills. The Manor takes place in that very structure; and to reach it one must motor up Doheny Drive and enter what is now a city park.
History hangs heavy here: the restored Greystone looks pretty much the way it did about a hundred years ago, though most of its 55 rooms have been stripped of furnishings, giving it a cold, barren feel—but also making it the ideal setting for a ghost story.
That's essentially what The Manor is, a ghost story about twelve characters caught up in a web of corruption, jealousy and (eventually) murder. Playwright Kathrine (sic) Bates's keen interest in history led her to write The Manor, which has been regularly performed at Greystone since 2002, before audiences who are divided into three groups who then troop from room to room to watch the orchestrated action. I'm not a big fan of this kind of immersive theatre, which is why it took me so long to attend a performance.
Am I now an admirer of The Manor? Yes and no. On the plus side, I found the production compelling: settings, costumes, acting, and directing were of a high order. On the minus side was the weakness of the play itself, beginning with the decision to take liberties with the true story. Edward Doheny was a robber baron, a rapacious and ruthless businessman whose tragic fall was caused by his complicity in the Teapot Dome oil scandal, which involved top officials in the Harding administration, including the U.S. Navy secretary, Edwin Denby.
Bates turns Doheny into Charles MacAlister (the excellent Darby Hinton), an affable, likable chap who gets in trouble when he "loans" a U.S. Senator, Alfred Winston (Daniel Leslie), a chunk of cash in return for that lawmaker's help in securing the right to build a naval base in Pearl Harbor.
Bates also spends a lot of time on the story's love triangle. Charles' son Sean (Sol Mason), a nice, geeky kid marries Marion (Carol Potter)—and is given Greystone as a wedding present! Marion loves him but has the hots for Gregory Pugh (Mikel Parraga-Wills), Greystone's handyman. It's hard to see why, as Gregory from start to finish is depicted as a jealous, angry drunk. It's also clear from early on that he is the baddie in the play, destined to commit the sub-title's murder. Thus, when the dastardly deed finally does occur, it comes off as something of an anti-climax.
Stretching the story out to encompass ten years is another mistake: urgency, suspense and drama are diffused over such a long, repetitive haul. When I wasn't looking at my watch during the three-hour performance of The Manor, I did enjoy some of its lively moments, such as when Gregory's feisty, ex-showgirl's wife Henrietta (Kira Brannlund) belts out a raucous version of "Pretty Baby," or when the two naïve, fearful virgins, Sean and Marion, try to figure out how to consummate their marriage.
Cast:
Darby Hinton/Mark Rimer; Carol Potter, Sol Mason, Mikel Parraga-Wills, Annalee Scott, Kira Brannlund, Daniel Leslie, Melanie MacQueen, Martin Thompson, Daniel Lench, Katherine Henryk, Esther Richman
Technical:
Stage Managers: Don Solosan & Henry Lide; Sound: Marc Olevin; Set Design/Dressing: David Hunt Stafford & Jackie Petra