Images: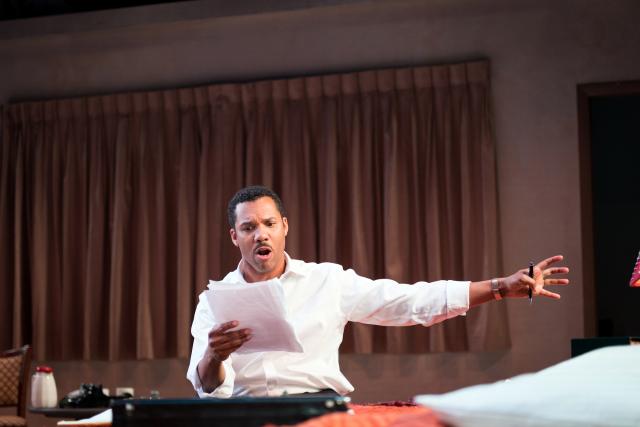 Company/Producers:
West Coast Black Theater Troupe
Theater:
West Coast Black Theater Troupe
Website:
westcoastblacktheatre.org
Review:
If The Mountaintop comes over better than its rather sketchy text deserves, it's because its production director, like Chuck Smith at WBTT, unveils subtext. That makes possible deeper-than-surface portrayals by its two actors as its realism acquires now-fashionable magic. Dr. Martin Luther King, Jr. thus becomes a normal human being as well as a charismatic icon.
In Memphis's gloomy Lorraine Motel, it's the 1968 night before MLK's April 4 assassination. That day he encouraged sanitation workers in their strike for higher wages. By referencing Moses's claim that he'd led his followers to their Promised Land that he'd not see, Dr. King underscored the present irony.
In fact, A-K Murtadha shows MLK as weary of campaigning and discouraged by his last audience turnout. Left alone in a spartan room, he searches for bugs in phone and furnishings. Though he's closed curtains tightly, he's apprehensive when thunder sounds penetrate, nearly knocking him over. He phones for coffee.
Room service comes in from a storm in the svelt shape of Emerald Rose Sullivan's imposing Camae. Flirtation begins with MLK asking for one of the cigarettes she brandishes. She spikes his coffee. They observe each other's personal traits.
Their extended banter turns philosophical, then theological. Having begun with Camae's use of his baptismal name, it settles on a magical connection between them and his fate, both physically and spiritually.
Though theologically questionable, author Katori Hall manages to tie together what MLK had said in his "Mountaintop" speech and what he was struggling to say in his next one. Also what he has accomplished with what he will be leaving behind and how much of that will influence the future of his country and its races.
A-K Murtadha powerfully convey's MLK's feelings of unreadiness to leave, especially because he can't visualize a powerful enough leader to follow him. (Indeed, there's never a sign of his cohorts in the motel.) But Camae puts him in his place: He's not God, and she makes it clear that God will suffice.
A rather needless but seemingly currently unavoidable projection of scenes from history that will follow are, however, breathtakingly enunciated by Sullivan's Camae. Director Smith doesn't dwell on them but instead appropriately leaves the scene dominated by the audience's memories of what has come before.
WBBT's technical crew handles all aspects of production naturally. Each is appropriate and, like the acting, memorable.
Cast:
Abdul-Khaliq Murtadha (Dr. Martin Luther King, Jr.), Emerald Rose Sullivan (Camae); Understudies: Brian L. Boyd & Ariel Blue
Technical:
Set: Michael Newton-Brown; Costumes: Adrienne Pitts & Patricia Gregory; Lights: Michael Pasquini; Props: Annette Breazeale; Sound: Victoria Delorio; Projection Design: Mike Tutal; Tech Director: Shane Streight; Production Mgr: James E. Dodge, II; Stage Mgr: Juanita Munford