Images: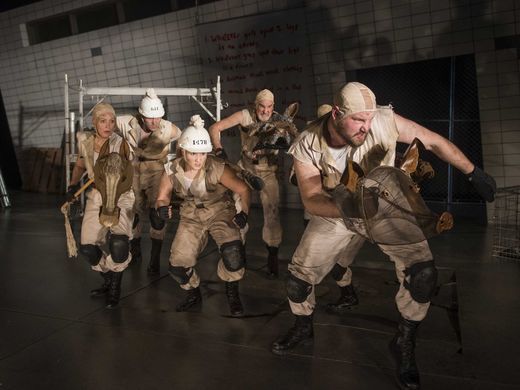 Company/Producers:
Milwaukee Repertory Theater
Theater:
Milwaukee Repertory Theater - Quadracci Powerhouse
Review:
George Orwell's "Animal Farm" is among the most famous political novels of all time, and Ian Wooldridge's adaptation is a masterful work that smartly takes the book's themes from page to stage. In the Milwaukee Repertory Theater's intriguing production, a cast of eight actors portray the entire community of Animal Farm – the animals as well as the hated, alcoholic owner, Farmer Jones, as well as various other humans.
Book readers will find many of Orwell's familiar characters in the play, including the pigs Napoleon, Squealer and Snowball; the faithful old horse, Boxer; the middle-aged horse, Clover; the elderly mule, Benjamin and, of course, the alcoholic, neglectful farmer. It is the tyranny of Farmer Jones (played by Milwaukee stage veteran Jonathan Gillard Daly, who also plays Benjamin the mule and other characters) that sets Orwell's play in motion. The farm animals lay eggs, sow seeds, reap the harvest, and assist in picking apples in the fruit orchard.
In a moving early sequence by the elder pig, Moses (memorably played by Melvin Abston), the animals learn of the dream or perhaps a vision that came to Moses one evening. In the dream, the animals rose up and took over the farm. In doing so, they replace cruelty with kindness and understanding under the heading of "animalism."
Moses's revelation inflames the animals into action. They drive Farmer Jones and his wife from their property. What comes next is the exquisitely crafted, "four legs or can fly good, two legs bad." This maxim is condensed from a set of rules that seem to keep changing as the pigs move in to take over Jones's place as master of the farm.
As crafted in this adaptation, the scenes are carefully balanced to give maximum movement to what is essentially a talky play (as are all political plays). The Rep's version is based on an adaptation by British writer Ian Wooldridge, and the production is co-sponsored by Baltimore Center Stage.
One of the most different aspects of this play is the industrial setting. Instead of setting Orwell's work in a quaint barnyard, set designer Andrew Boyce puts it squarely inside a run-down slaughterhouse. This is a smart move when considering Wisconsin audience members, many of whom grew up with Milwaukee's Patrick Cudahy and Madison's Oscar Mayer Company meat-processing plants. Unlike the real-life facilities, however, the one depicted onstage clearly has seen better days. Missing tiles on the wall and cracked flooring suggest that this revolution will come to no good end.
Another interesting departure is an onstage opening sequence that features human workers, clad in once-white shirts and pants (the type worn by slaughterhouse workers). A "chain gang" of them struggle with a long, thick rope attached to a raw side of beef. Just as they succeed in moving the carcass to center stage and begin to pant, a loud sound forces them to re-start the same repetitive sequence. One wishes a sequence of similar interest could have been devised for the end of this 90-minute play, staged as a one-act. Instead, the show basically slows to a trot and then blacks out.
Director May Andrales introduces all sorts of neat visual devices to keep the audiences' attention. In the early scenes, a flighty, pampered horse named Molly (Tiffany Rachelle Stewart) prances about, admiring the ribbons in her mane and tail. Once the ribbons are removed by the other animals as inappropriate attire for an animal, Molly quickly assesses that her life is not going to be better with the animals in charge. The same actor appears in later sequences as Squealer, the pig. Stewart keeps a steady, unwavering voice as she begins to tell lie after lie. Orwell's justifications as pronounced by Squealer are so outlandish that they cue nervous laughter from the audience.
All eight actors turn in good performances, with special mention to Jonathan Gillard Daly (whose face perfectly mirrors the emotions felt by his character, the mule), and Deborah Staples as Clover, the horse who tries to make sense of it all. A Milwaukee stage newcomer, Stephanie Weeks, excels at embodying Major, the old pig who unwittingly "unleashes" the animal revolution, and Boxer, the strong, steady work horse who comes to a sad, untimely end.
Parental:
adult themes, mild violence
Cast:
Melvin Abston (Napoleon); Jonathan Gillard Daly (Jones, etc.); Deborah Staples (Clover, etc.); Tiffany Rachelle Stewart (Squealer, etc.,); Brndan Tilley (Snowball).
Technical:
Set: Andrew Boyce; Costumes: Izumi Inaba; Lighting: Noele Snollmack; Sound and Original Composition: Charles Coes and Nathan A. Roberts.