Images: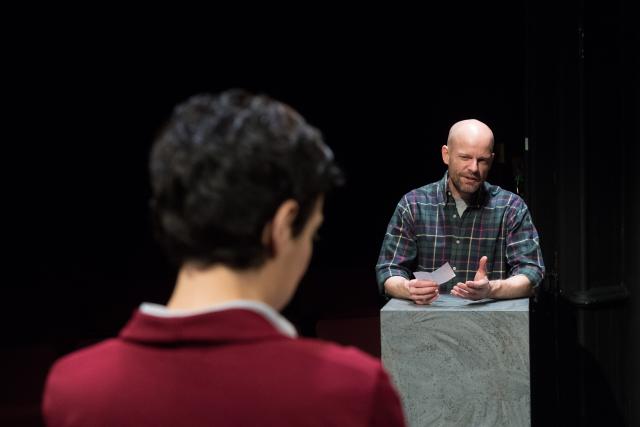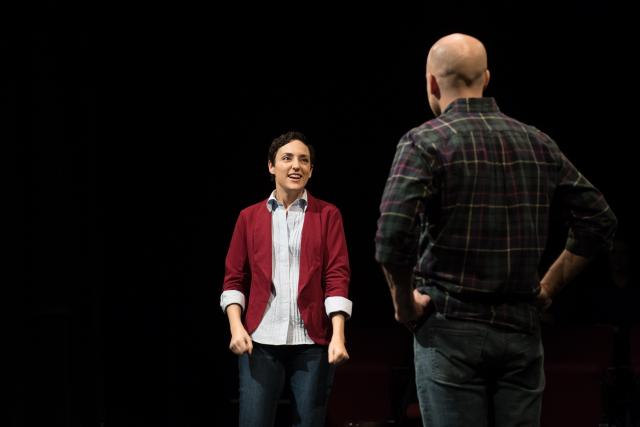 Review:
Now in its third season, All In Productions seems fated to fill a hole in the local theatrical landscape. It stages (mostly obscure) musicals and dramas (and has seen more success with the musicals than the dramas). But its latest offering, Constellations is a drama – almost. It comes off more like an exercise in an acting class.
It brings together a man and a woman from completely different worlds: he's a professional beekeeper, and she's a Cambridge professor and researcher. Her area of expertise is physics, and the play takes its formula from physicists who think that all aspects of our lives play out simultaneously in different universes.
This is the play's Milwaukee debut, following a successful Broadway run at the Samuel L. Friedman Theater. The Broadway version starred a well-known London actress and a film star, Jake Gyllenhaal ("Brokeback Mountain"). The show opened to rave reviews in London and was transported to Broadway in 2015.
In this production, Marianne is played by Libby Amato. In this role, she's a tall, athletic-looking woman with short hair. "We're just particles governed by a series of very particular laws being knocked the f--- around the place," she tells Roland at one point. His response: "You make it sound so glamorous."
Roland is about the same height, bald and equally athletic-looking. One could imagine him relocating beehives for a living. It's an odd match, to be sure.
Had we known a bit more about these adults prior to their meeting, it's possible the audience might care about their happiness more than we do. Playwright Nick Payne gives us snippets of clues to their backgrounds or, in the case of Marianne's deceased mother, in repetitive references to her bravery in the face of death.
Given that the audience must believe this theory about parallel universes in which every aspect of one's life is played out somewhere else, we end up with a series of slightly altered vignettes. For instance, when Marianne tries to engage Roland in conversation at the barbecue where they met, he responds "I'm married" in the first iteration, "I've just broken off a serious relationship" in the second iteration, and "Oh," in the final iteration. This is enough to allow Marianne to continue a goofy conversation about a human's inability to lick his own elbow.
Dozens of scenes follow, in which we learn how each partner reacts in various situations. Yet, the audience is kept guessing: When did they move in together? When did Roland move out? Who had an affair? Things slow down a bit when its revealed that Marianne has a brain tumor or something like it. When Roland asks (three times) how long she'll have to live, the answers range from a year, to a few months, to a few weeks. At one point, she says she'll make a full recovery. So which is it?
There's almost a cat-and-mouse interplay between them during these sequences. Although the audience is kept in the dark about these characters, the two are keen to pick up each other's soft spots.
As Roland, David Sapiro ably captures the salt-of-the-earth quality that is perhaps the reason why Marianne is drawn to him. Or maybe she is bored just being around academics all day? We never really know.
This thought-provoking play – as difficult to stage as it is watch, one imagines – is helmed by director Mitch Weindorf. He uses several subtle stage tricks to suggest changes in time and location, despite the fact that the actors only have a pair of wooden boxes to work with (hence, the feeling of this being a stage exercise). The actors go through myriad emotions in their various vignettes, revealing more and more aspects of their personalities.
By the end, the audience starts thinking about the relevance of how we live our lives. Is each episode we face worthy of careful consideration, given the fact that other outcomes exist in other universes? Or do we continue to go blindly from day to day, just hoping to get through the week? All In Productions persuades us to consider the possibilities, and they do it skillfully. This is a show to watch, especially for those interested in the finer points of relationships.
Cast:
Libby Amato (Marianne); David Sapiro (Roland).
Technical:
Costumes: Molly Mason. Lighting: AntiShadows LLC; Sound: Matt Whitmore