Images: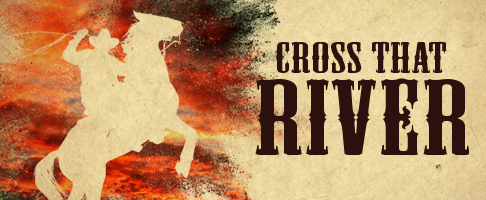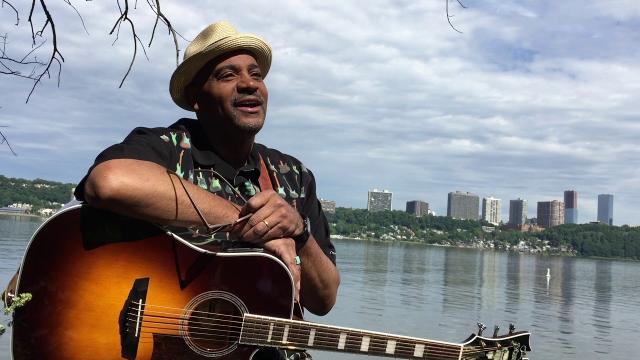 Review:
Cross that River is a journey well worth taking for all theater lovers. It's a rare and precious experience to find a play which is both thoroughly entertaining and thoughtfully enlightening.
At the center of the show is Blue, a former slave turned cowboy, who wants nothing more than to be free to live and love as he chooses. Allan Harris is a renowned singer, musician, composer, and as evidenced here, an actor who is by turns smart, engaging, and downright sexy. The joy of Cross that River is that by the end, the audience feels as deeply involved as do those who are performing. This is a true ensemble piece. The performers are onstage the entire time, and completely involved in each other's work. This is also true of the five-member band. To borrow a phrase from another show, even the orchestra is beautiful.
The music is engaging, the tunes memorable, and the variety is impressive, including blues, country, and gospel. While the show has universal appeal, I shudder to think what might happen if it were to be performed by lesser lights than the brilliant performers in this setting. Maya Azucena, playing multiple parts, all but steals the show with her extraordinary voice and her total commitment to the truth of each character. She's savvy old Mama Lila to young Blue (Jeffrey Lewis) and his white girlfriend, Courtney (Carolyn Leonhart). She's spunky mail order bride turned saloon girl, Annie. She's a defeated, but not broken, Native American woman. And at the end, she's Lila, who restores Blue's faith in the rightness of the universe.
Yes, there are flaws. The first act is too long; the "Preacher" number, while catchy, does nothing to propel the action forward. Does the Muleskinner get revenge for the atrocity he's endured? His story needs to be rounded out because we've become enmeshed in the background of who he has become and why. But these are minor faults, easily patched up by one a gifted as Allan Harris.
This insightful portrait of the U.S. is not all sunshine and lollipops. How could it be in the span of time it covers, the last half of the 19th century? Tough topics include slavery, the slaughter of Indians and their culture, and the harrowing deaths of beloved women. But Harris is at heart an optimist, with a great belief that we're all in this together. It's our duty and our privilege to make sure that we remember this country is built by people of all colors, backgrounds, and beliefs. As he so eloquently reminds us, this country is great already; it's up to all of us to see that no one's rights are stripped away because of our apathy or discouragement.
Allan Harris is a true American genius who deserves to be celebrated by all who love this noble, flawed, magnificent country. Cross that River merits a bigger venue, and a much broader audience. I can't think of anything that would make me happier than the opportunity to review it again as a Broadway production.
Cast:
Allan Harris, Maya Azucena, Alan Grubner, Miki Hayama, Seth Johnson, Carolyn Leonhart, Jeffery Lewis, Shirazette Tinnin, Jay White
Technical:
Set: Anne Patterson; Lighting: Michael Giannitti