Images: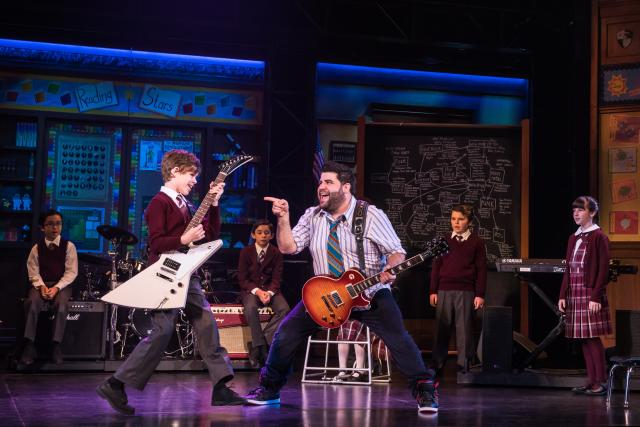 Company/Producers:
Tour - Broadway Across America-Milwaukee series
Theater:
Marcus Center for the Performing Arts
Review:
The School of Rock is making a noisy debut in Milwaukee. The musical's first national tour arrives on the heels of a relatively brief stay in Chicago (a town where some musicals settle in literally for years). This means Milwaukee had an opportunity to see first-rate performers, many with Broadway and West End credits. Too bad the sound system went so haywire on opening night (more on this later).
Chicago Tribune theater critic Chris Jones liked the lead (Bob Colletti) a lot. This reviewer does, too, but still can't forget her memorable moments at the Broadway production with Alex Brightman. He was the original stand-in for Jack Black, the comic actor who starred in the 2003 film of the same name. School of Rock opened on Broadway almost exactly two years ago, and it seems to be doing well. The weird mix of over-entitled (but musically gifted) children and a grown-up slob who teaches them a great deal about self-confidence, self-esteem and self-worth is surely poised to be a hit. This is not just a musical about kids: It is also the kind of heart-warming, family-friendly entertainment that is in particularly short supply these days.
To make the plot believable, Dewey Finn (played by Bob Colletti), must come across as a rock-and-roll loser. Living in his friend's basement and stuffing himself with junk food, Finn has the tough assignment of connecting with the audience. Otherwise, this aging slacker isn't going to seem interesting enough to follow for an entire musical. Like Jack Black, the late John Belushi and a few others, Colletti has mastered this good guy in bad guy's clothing.
At first glance, Dewey Finn doesn't impress. He wears ill-fitting clothes, makes rude comments to his landlady (also the girlfriend of Ned, who Dewey once played in a band with), and is so self-absorbed that he doesn't realize why he is being kicked out of a rock band. In search of funds to pay the rent, Finn snaps up an unlikely opportunity. A private boarding school is looking for a last-minute substitute teacher. Dewey takes the phone call and tricks the principal into thinking he is Ned (a certified teacher). Within minutes of arrival, he is tossed into a classroom. Dewey is prepared to take an instant dislike to the kids, all of whom come from wealthy backgrounds (or so Dewey thought). But since Dewey is really nothing more than a big kid himself, he latches onto his charges and is determined to turn their classically trained ears to adore throbbing, heavy metal-type rock and roll.
The child actors are an interesting mix: some pros (with Broadway credits such as Matilda) and some newcomers. One of the latter is Gianna Harris, who plays a notable Tomika. If anyone has seen this musical, Tomika is instantly recognizable as a terribly shy young girl who barely speaks loud enough for others to hear her. However, when auditioning for "the band," she does an a cappella solo that knocks Dewey's socks off. Immediately, he tags the girl as the band's lead singer.
Although the topic of private schools gets more than a few digs throughout the musical, the real showdown is between the kids and their parents. Busy executive parents have little time to spend with their kids – or so this scenario informs us. The kids automatically think that because their parents aren't listening to them, they probably don't even like them. And who can argue with that thinking?
Then there's Dewey, who is trying to do something "great" for and with the kids. Dewey applies what he knows about band life in a band, which apparently includes listening to each other.
Since rock will always be an anti-establishment cry of freedom, Dewey gets the kids riled up with the injustices put upon them. Their anthem, "Stick It to the Man," is a vigorous, but basically harmless protest. It is one of Andew Lloyd Webber's catchier tunes in the show. But make no mistake; Jesus Christ Superstar this is not.
Unfortunately, a handful of sound problems in the theater practically dismantled the musical before it began. The microphones crackled, and the dialogue and lyrics were so often muddy that they reached the point of incoherence. The stage left section of orchestra seating also was bombarded by some weird, unrelated sounds, as if aliens from outer space were going to appear onstage at any minute. The Marcus Center for the Performing Arts had sound problems with its last touring musical production, too. While these glitches are typically cleared up by the following day, that doesn't do much for a full house on opening night.
Cast:
Rob Colletti (Dewey Finn), Lexie Dorsett Sharp (Rosealie), Matt Bittner (Ned), Emily Borromeo (Patty, Ned's live-in girlfriend), Ava Briglia (Summer), Olivia Bucknor (Shonelle).
Technical:
Set and Costumes: Anna Louizos; Lighting: Natasha Katz; Sound: Mick Potter.